Top Story
Simulating Humans
November 9, 2018
HPC-backed in silico simulation could fuel the next revolution in clinical studies and treatment development.
Simulating Humans
November 9, 2018
HPC-backed in silico simulation could fuel the next revolution in clinical studies and treatment development.
Free Model-Based Development Software
November 7, 2018
Altair also makes OpenMatrix computational programming language open source code.
The Black Box Dilemma
November 1, 2018
Trust the mesh generated by the software, or take a proactive approach?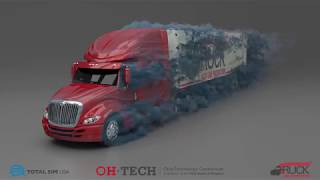 What Makes a Good Simulation App?
November 1, 2018
Simulation app makers weigh ease of use vs. functionality for specific uses cases.
Democratization in FEA
November 1, 2018
Most of the discussion on FEA democratization tends to focus on CAD-embedded FEA. The downside of making FEA software accessible by all is often stated as there may not be adequate understanding of the underlying principles of FEA.
Virtual Reality Strategy Conference 2018: New Ways to Interact with Pixels
October 29, 2018
Analyst firm Greenlight Insights hosts Virtual Reality Strategy Conference in San Francisco
Compiler, New Modeling Tools Headline Latest COMSOL Release
October 8, 2018
The COMSOL Compiler can be tapped to create standalone COMSOL multiphysics applications that don't require any additional licenses to run.
NCDMM Launches V4 Institute
October 5, 2018
The National Center for Defense Manufacturing and Machining 's V4 Institute provides advanced assurance in product design and manufacturing through virtual verification, validation and visualization.
SimScale Releases Cloud-Based User Interface Update
September 27, 2018
The new and improved SimScale Workbench 2.0 was built from scratch on the latest, state-of-the-art technology stack, aiming to enhance user productivity by decreasing loading time and increasing interaction speed.
Aras Acquires Comet Solutions
September 25, 2018
Addition of simulation management to the Aras PLM Platform extends digital thread traceability.
Siemens Thermal Simulation Solution Targets Autonomous Vehicle Design
September 24, 2018
Easy-to-use solution from Siemens PLM Software helps electronics and automotive design engineers tackle critical thermal changes early in the design process.
ASSESS 2018 Congress Adds "Notes From the Front" Sessions
September 19, 2018
At ASSESS 2018, each session is made up of multiple 15-minute quick presentations from industry leaders on experiences related to involvement or support of the simulation revolution.
ANSYS Version 19.2 Released
September 18, 2018
The latest generation of Pervasive Engineering Simulation solutions spurs productivity, efficiency and accuracy for every application.
Altair Debuts Open Source and Free Basic Editions of MBD Offerings
September 14, 2018
Altair is open-sourcing its open-source computational programming language, OML. Interested users and contributors can download the source code from the OpenMatrix website.
Altair Offers GE's Flow Simulator Software
August 17, 2018
Flow Simulator from GE is an integrated flow, heat transfer and combustion design software that enables mixed fidelity simulations to optimize machine and systems design.
Latest News
Editor's Pick: Make Managing Complexity Less Complex
Labyrinthine design processes and simulation data management can render informed decision-making tough going. This...
Dassault Systèmes U.S. Foundation Grant Supports STEM Certification of Veterans
STEM programs provides hands-on training on state-of-the-art equipment.
Trend Micro Research Uncovers Lack of IoT Security Awareness
Only 14% of respondents say they have complete organizational awareness of IoT threats; 37% claimed they...
Keysight Technologies Enables ON Semiconductor to Deliver a Design Solution for Power Devices
Keysight's Power Electronics Design Bundle is built for power electronics engineers, delivering a...
All posts