Top Story
Add Visual Velocity to Boost Engineering Productivity
Research proves importance of displays to productivity as 4K resolution becomes standard.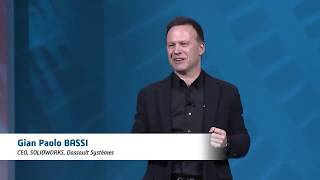 DE News Roundup: SolidWorks World 2019 Recap
February 15, 2019
Kenneth Wong narrates the top video news from this week at SolidWorks World 2019.
3Dconnexion Devices Now Compatible with SolidWorks xDesign
February 12, 2019
The update will take effect after SolidWorks World conference.
3D Mice Improve Ergonomics at CAD Workstations, Study Shows
December 20, 2018
3Dconnexion, a manufacturer of ergonomic input devices for CAD and 3D professionals, commissioned the Fraunhofer Institute for Industrial Engineering (IAO) to carry out a scientific study on working with a 3D mouse.
Canon Redefines the Large-Format Printer with imagePROGRAF TM Series
October 8, 2018
The TM Series is designed to offer a solution for technical documents, such as CAD drawings and GIS maps, and also short-term outdoor posters, signage and displays with the use of Canon's LUCIA TD water-resistant pigment ink.
Epson Extends Line of Wide-Format Printers
October 8, 2018
Epson further expands SureColor T-Series wide-format printer line with two high-production wireless workgroup printers. The 24-Inch SureColor T3470 and 36-Inch SureColor T5470 offer precise printing and features for workgroup productivity.
Add Visual Velocity to Boost Engineering Productivity
August 13, 2018
Research proves importance of displays to productivity as 4K resolution becomes standard.
What's New in Large-Format Printers?
August 1, 2018
Be able to answer important questions prior to making an investment.
Epson Debuts T-Series Wireless Technical Printers
July 11, 2018
SureColor T3170 and T5170 wireless technical printers said to offer speed in a sleek, compact design for engineering communities.
Configure Your Workstation for Rendering
June 14, 2018
Your rendering software of choice dictates your hardware investment.
Fight Complexity with Technology
May 14, 2018
Don't be distracted by "more, better, faster" promises that increase complexity.
Philips Monitor Achieves HDR1000 Certification
May 2, 2018
The Philips Momentum 43-inch monitor receives the new VESA DisplayHDR 1000 Certification.
3Dconnexion Introduces SpaceMouse Compact, a 3D Mouse
April 18, 2018
3D mouse from 3Dconnexion provides intuitive 3D-navigation and reviewing of 3D designs.
Philips to Offer 49-in. Curved Super-wide QHD Display
April 3, 2018
The display monitor features a 5120x1440 resolution VA panel with an 1800R curvature, up to 600 nits brightness, up to 5,000:1 contrast ratio and 178 degree viewing angles.
Sponsored Content
Guide to Technical Large-Format Print Systems
March 13, 2018
Not all large-format printing solutions are alike. Here's a guide that explains technologies developed exclusively for technical users.
Sponsored Content
How a Large-Format Printing System Works
February 22, 2018
Océ CrystalPoint Technology is the engine that powers 10,000 printing systems, so how does it work?
Latest News
America's Cup Challenger American Magic Flies Across the Water with Stratasys 3D Printing
US team for world-renowned competitive sailing event taps into carbon fiber for end-use racing parts.
Artec 3D Launches Artec Micro Industrial Desktop 3D Scanner
Scanner promises quality control of small objects, reverse engineering design and more.
Indo-MIM and Desktop Metal Set Up Partnership to Boost Adoption of Metal 3D Printing
Large metal injection molding company plans to deploy metal 3D printing at scale with the Production System.
AMT on the Importance of Automated Post-Processing for Additive Manufacturing
Company to highlight how its BLAST process intersects material science, hardware engineering and process automation at RAPID + TCT 2019; introduce the...
All posts