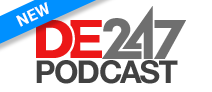 Glossary Spotlight
IoT
The Internet of Things (IoT) is a network comprised of physical objects capable of gathering and sharing electronic information through the Internet.
View IoT term
Glossary
A
B
C
D
E
F
G
H
I
J
L
M
N
O
P
Q
R
S
T
V
Digital Engineering
Featured DE Contributors
Subscribe to Digital Engineering Free E-mail Newsletters
Stay up-to-date, don't miss a single news story or product review, subscribe today.
Latest Posts
Prototype/Manufacture
Saratech acquires Apex DMS Inc., a Siemens PLM software business, from the Sconce Group
Apex DMS is a Siemens PLM software business, from the Sconce Group.
Simulate
Siemens Updates Simcenter System Simulation Solutions
These system simulation solutions help enable engineers to rapidly build models before the first physical prototype becomes available.
Promoted Post
Meeting the Challenge of Product Complexity for Global Manufacturers
Using this five step blueprint to create your Digital Thread will help you manage the design, manufacture and sustainment of complex products.
Learn more.
Engineering Computing
DE Podcast: Analyst Jon Peddie Explains COVID-19's Effect on the GPU Market
JPR releases graphics market report for 2020 Q1, shipments down, growth blunted by Coronavirus and shutdowns
Design
Mastercam 2021 is Now Released
CAD/CAM developments streamline the manufacturing process from job setup to job completion.
Simulate
EnginSoft USA and MotionPort Announce Merger
Combined company will provide enhanced CAE software and services with national coverage in simulation disciplines.
Prototype/Manufacture
3D Systems Expands Plastics Materials Portfolio
Figure 4 RUBBER-65A BLK new mid-tear strength elastomer has high elongation at break for flexibility, strength and durability.
Prototype/Manufacture
Additive Manufacturer Green Trade Association Commissions Research Project
Project will be a systematic review of existing studies on the environmental benefits of AM.
Design
Hypertherm Releases ProNest 2021
This marks a major version update of its advanced CAD/CAM nesting software.
Prototype/Manufacture
Stratasys Announces Strategic Resizing to Accelerate Growth
Measure reflects shift to leaner operating model.
Editor's Picks: May 28-June 3, 2020
One of the picks will be chosen as DE's Editor's Pick of the Week.
Prototype/Manufacture
HP Introduces Polypropylene Material to Expand 3D Printing Market
Update includes new PP material for final parts, expanded alliance with BASF, new digital manufacturing partnership with Oechsler and new...
Simulate
DE Podcast: Reexamining the Role of Digital Twins in the Era of Social Distancing
Ansys discusses the use of digital twins in engineering projects while following social distancing rules
Prototype/Manufacture
Editor's Pick: Closing the gap on 3D printing expertise 
Materialise Mindware is billed as an advisory service to offer businesses strategic, tailored and technology-neutral insights on 3D printing usage. 
All posts
All topics