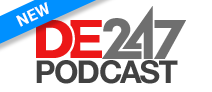 Glossary Spotlight
IoT
The Internet of Things (IoT) is a network comprised of physical objects capable of gathering and sharing electronic information through the Internet.
View IoT term
Glossary
A
B
C
D
E
F
G
H
I
J
L
M
N
O
P
Q
R
S
T
V
Digital Engineering
Featured DE Contributors
Subscribe to Digital Engineering Free E-mail Newsletters
Stay up-to-date, don't miss a single news story or product review, subscribe today.
Latest Posts
Design
Siemens and ASME Announce Innovate for Impact: Siemens Design Challenge Winners
Teams from Colombia, Uganda and the U.S. selected for innovations that meet need for clean water and adequate food...
Engineering Computing
AMD COVID-19 HPC Fund Adds 18 Institutions and Five Petaflops of Processing Power
AMD EPYC CPUs and Radeon Instinct GPUs to power COVID-19-related research at Stanford School of Medicine, the University of...
Promoted Post
How to Leverage High-Strength 3D Printing
Can't figure out how to integrate high-strength 3D printing into your manufacturing workflow? Try a new perspective.
Learn more.
Presented by
Prototype/Manufacture
Team Penske and Stratasys Extend Technical Partnership
Team Penske has expanded its use of Fused Deposition Modeling and PolyJet Technologies for prototyping, tooling, fixturing and end-use parts...
Engineering Computing
Rescale and Hyundai Motor Group Team Up to Boost Mobility Innovation
Companies build a multi-cloud high-performance computing environment.
Simulate
ASSESS Initiative Publishes Align Theme Positioning Paper
The ASSESS initiative has been organized around a key set of themes associated with expanding the usage and benefit of...
Editor's Picks: Sept. 17-23, 2020
One of the picks will be chosen as DE's Editor's Pick of the Week.
Sponsored Content
Check It Out: HPC Maximizes the Value of Ansys Mechanical
Developers updated the company's simulation solutions to leverage access to faster processors storage systems, and communication sockets available in...
Simulate
Podcast: Is Your Car a Good Listener?
Acoustic Simulation Experts from COMSOL and Dassault Systemes Simulia Discuss Audio Analysis in Automotive
Engineering Computing
Editor's Pick: New line of wide-format printers from technology leader
The series is designed to support the creative process for engineering and other graphics-based professional processes. 
Engineering Computing
Majority of Engineering Teams May Continue Remote Work
66% of engineering firms indicate remote work will continue even after pandemic subsides.
Formlabs Expands Large-Format 3D Printing Line
Formlabs launches Form 3BL, for biocompatible printing, Wash L + Cure L, and ships Form 3L to enable engineers, designers, dental...
Prototype/Manufacture
DP Technology Enhances ESPRIT CAM System With AI Capabilities
The CAM system's AI uses a digital twin of the CNC machine, tooling and workholding to drive ESPRIT's most advanced...
Simulate
MathWorks Presents New Release 2020b of MATLAB and Simulink
Update includes expanded Simulink access, new products, major updates and hundreds of new features.
All posts
All topics