Top Story
Simulating Humans
November 9, 2018
HPC-backed in silico simulation could fuel the next revolution in clinical studies and treatment development.
Digital Design Technology: a New Dawn
November 12, 2018
Today, design engineers have access to affordable, photorealistic rendering, 3D animations and simulation, as well as immersive design technologies like augmented and virtual reality.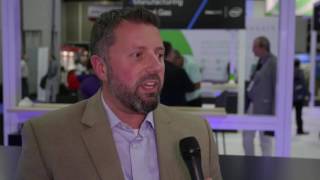 Sponsored Content
See Biomolecules Clearly
November 9, 2018
HPC helps researchers visualize molecular processes in high resolution.
Forecasting the Next Epidemic with High Performance Computing
November 9, 2018
High performance computing is critical to detecting and studying infectious disease transmission.
Ultra Large 3D CAD Visualization Available
November 2, 2018
Kisters provides visualization applications for the Windows desktop and any HTML5 browser.
Sponsored Content
Editor's Pick: NVIDIA Quadro RTX Graphics About to Change Your Workstation
October 24, 2018
PNY expects to fulfill first partner orders for new NVIDIA accelerators in early November.
Siemens Set to Acquire Lightworks, Aims to Bolster Visualization and VR support
September 28, 2018
Data Visualization Company Launches Interactive Product
September 19, 2018
Montreal-based Plotly Technologies, a data visualization provider, offers the scientific community a collaborative, interactive way to connect with lab instruments and share results.
Siemens Buys Lightwork Design to Deliver Advanced 3D Data Visualization
September 19, 2018
Siemens' acquisition of Lightwork Design enables ability to provide advanced 3D data visualization
Gravity Sketch 1.5 Released
September 7, 2018
The launch of Gravity Sketch 1.5 is here with expressive geometry algorithms and a suite of fresh tools and features to enable faster and more effective real-time 3D content creation. 
Autonomous Visualization
September 1, 2018
Autonomous driving visualization tools make massive testing scenarios possible.
Editor's Pick: Design and Analyze Illumination Optical Systems
August 1, 2018
LightTools' new Tolerance Manager helps predict illumination system manufacturability.
Design and Analyze Illumination Optical Systems
August 1, 2018
LightTools upgrade's new Tolerance Manager helps predict illumination system manufacturability.
Renderings that Fool the Eyes and Minds
August 1, 2018
Digital artists discuss their tools and tricks.
Experiencing Is Believing in Immersive Design
August 1, 2018
The power of an immersive, shared experience to promote collaboration and inform design should not be underestimated.
Mechanical Simulation Releases 2018.1 Versions of Vehicle Simulation Tools
July 18, 2018
The vehicle simulation software packages have been extended with many new animation resources (walking pedestrians, pedaling bicyclists, running animals), road surfaces and paint markings, road signs and other "props" that appear along a road.
Latest News
Editor's Pick: Aero-Acoustics and Vibro-Acoustics Simulations Extended for Turbomachinery
New wizard helps predict tonal and broadband noise for turbomachinery.
Wizard Speeds Turbomachinery Acoustics Analyses
Integrated aero-acoustics and vibro-acoustics simulation suite updated.
Origin Introduces Open Additive Production
Origin comes out with new approach to additive manufacturing; company has new funding and...
voxeljet Delivers VJET X Printers for Automaker
voxeljet's new large-format printer will be used to produce sand cores for auto engine...
All posts