Top Story
DE News Roundup March 15, 2019: HoloLens 2, V-Ray Next for Rhino, GTC and COFES, more
Microsoft debut HoloLens 2 at MWC, Chaos launches V-Ray Next for Rhino, NVIDIA gets ready for GTC, and more
ANSYS Cloud delivers on-demand cloud HPC access within the ANSYS portfolio to democratize simulation.
Resources
Cloud 3.0: The Rise of Big Compute
The success of deep learning as the first Big Compute killer app signals an inflection toward exponentially greater use of large-scale, specialized computing.
Featured Companies
NVIDIA to Acquire Mellanox for $6.9 Billion
March 11, 2019
Once complete, the combination is expected to be immediately accretive to NVIDIA's non-GAAP gross margin, non-GAAP earnings per share and free cash flow.
Rescale Sets Up Strategic Partnership with Siemens PLM Simcenter
March 6, 2019
Unlimited scalability supercharges Simcenter simulation.
Sponsored Content
Maintain Your Engineering Core
March 5, 2019
Flexibility combined with power and expansion options make workstations the center of a design engineering workflow.
Rescale Announces Strategic Partnership with Siemens PLM
March 5, 2019
Siemens PLM Software has partnered with Rescale to enable software as a service delivery of Siemens' Simcenter portfolio on Rescale's ScaleX platform.
Ultimaker Unveils new Platform Services with Ultimaker Cloud
February 21, 2019
Future-ready cloud platform designed to support the 3D printing workflow.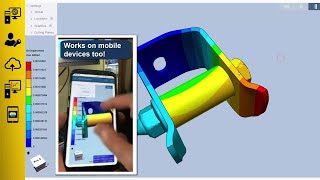 ANSYS Provides Path to Cloud HPC
February 20, 2019
ANSYS Cloud delivers on-demand cloud HPC access within the ANSYS portfolio to democratize simulation.
ANSYS Launches ANSYS Cloud to Boost Business Agility
February 5, 2019
ANSYS Cloud enables instant access to cloud HPC from within ANSYS flagship products.
Connecting the Thread: 5G
February 1, 2019
5G wireless may bring benefits to cloud-based CAD, IoT, simulation and digital twins.
Game on for 5G
February 1, 2019
Predictive Maintenance Improves Efficiency
February 1, 2019
Considering the aggressive time to market required for industrial products and services, it is crucial to identify the cause of potential failures before they occur.
Collaboration Platform Fuels Innovative Race Car Design
December 27, 2018
Nicolas Perrin's autonomous, electric Le Mans Prototype race car Project 424 relies on open access design and new communications platform.
Partner Content
The Growing Acceptance of CAE
December 18, 2018
Teradici Expands Support For Multicloud Environments
December 7, 2018
Enables companies to use any public, private or hybrid clouds to build secure remote virtual workstations.
Supersonic Comeback
December 1, 2018
Engineering startups and government agencies revisit the possibility of supersonic flight.
Sponsored Content
Multi-fidelity Optimization with Cloud Services
December 1, 2018
Multi-fidelity optimization saves time and cost, while maintaining accuracy.
Latest News
DE News Roundup March 15, 2019: HoloLens 2, V-Ray Next for Rhino, GTC and COFES, more
Microsoft debut HoloLens 2 at MWC, Chaos launches V-Ray Next for Rhino, NVIDIA gets ready...
3YOURMIND Extends Partnership with Deutsche Bahn
Deutsche Bahn has integrated the software solutions from 3YOURMIND to gather 3D printing applications...
dSPACE TargetLink 4.4 Debuts New Functionalities
In this new release, the Production Code Generator supports MATLAB Code in Simulink Models.
eXstream Engineering and Volume Graphics Collaborate on Mechanical Simulation of Materials
The combined use and the interfaces between the software solutions of e-Xstream and Volume...
All posts