Top Story
Radica Software Releases Electrical CAD Software
Electra Cloud provides anywhere access for designers via workstations, smartphones
Graebert conference presents the company's expanded vision for the cloud-based CAD technology.
Resources
Democratizing High Performance Computing
Reducing barriers to entry with cloud-based solutions.
More Engineering Computing Resources
Radica Software Releases Electrical CAD Software
January 17, 2020
Electra Cloud provides anywhere access for designers via workstations, smartphones
BETA CAE Systems Releases Version 20.1.0 of ANSA/EPILYSIS/META Software Suite
January 9, 2020
The v20.1.0 release features more efficient process streamline and acceleration.
Velocity Micro Announces New Small Form Factor Chassis and Custom Cooling AIO Solution
January 7, 2020
Aluminium NX2 is PC builder's new foundation for ultra-compact high-performance workstation desktops.
AMD Announces Desktop and Ultrathin Laptop Processors at CES 2020
January 7, 2020
 AMD introduces 64-core HEDT processor AMD Ryzen Threadripper 3990X.
AMD Unveils Four New Desktop and Mobile GPUs
January 7, 2020
The new AMD Radeon RX 5600 series lineup includes the AMD Radeon RX 5600 XT graphics card,  available in custom designs from AMD board partners.
Dell Technologies Launches New Era of PCs and Displays
January 6, 2020
Productivity gets boost with Latitude 9510, an intelligent 15-in. 5G-ready business PC with built-in AI. Thinner and smaller XPS 13 debuts its first four-sided InfinityEdge display for virtually borderless viewing experience.
Sponsored Content
Democratizing High Performance Computing
January 2, 2020
Reducing barriers to entry with cloud-based solutions.
Sponsored Content
Challenging the Barriers to High Performance Computing in the Cloud
January 2, 2020
Breaking down common misconceptions about cloud-based HPC solutions.
Sponsored Content
Computer-Aided Engineering on AWS Empowers Engineers to Innovate
January 2, 2020
Unleash productivity with CAE Today, computer-aided engineering (CAE) is standard in any industry that uses design software to develop new products or to create new features for existing products.
Sponsored Content
Achieving Optimal Price/Performance for Your HPC Workload
January 2, 2020
A guide to discovering the best AWS instances and configurations for your use case.
CLASS Software Framework Makes Modena Smarter in Real-Life Setting 
December 29, 2019
The CLASS framework is powering smart city applications, from digital traffic signs and smart parking to air pollution simulation and pedestrian avoidance applications.
NVIDIA TensorRT 7's Compiler Delivers Real-Time Inference for Smarter Human-to-AI Interactions
December 20, 2019
TensorRT 7 features a new deep learning compiler designed to automatically optimize and accelerate the complex recurrent and transformer-based neural networks needed for AI speech applications. 
Competition Heats Up for Material Manufacturers in Thermal Interface Applications
December 17, 2019
New report shows detailed review of numerous industries and a review of the key players and material considerations.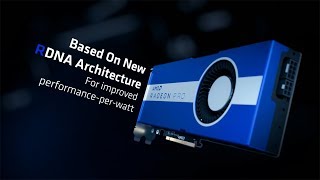 New GPU Enters the 7nm Realm 
December 11, 2019
The graphics processing unit can do more work per watt and do it faster than the previous generation technology.
Sponsored Content
Editor's Pick: Engineering GPU with World-First Specs 
December 11, 2019
AMD Radeon Pro W5700 is a professional PC workstation graphics card designed for 3D designers and engineers using 7nm technology.