Top Story
Self-Driving Cars are Leveling Up in Autonomy
A look at the self-driving carmakers' road ahead.
From flying taxis to cargo drones, efforts are underway to automate in the air.
Resources
Industry Focus: Designing for Consumer Electronics
Design engineers developing consumer electronics were some of the first to arrive at the intersection of hardware, electronics, software and aesthetics. That intersection has since become jammed with engineers from various disciplines trying to…
Featured Companies
Siemens Introduces Validation Program to Accelerate Autonomous Vehicle Development
May 17, 2019
Siemens' PAVE360 provides a comprehensive environment for multi-supplier collaboration across the automotive ecosystem for the development of next-generation automotive chips, according to the company.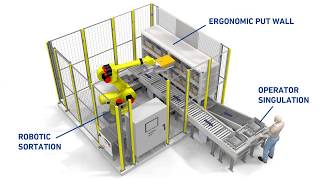 Digital Twins and Cyberphysical Security at AeroDef
May 3, 2019
DE Video News May 3, 2019: Digital twins and cyberphysical security discussions at AeroDef Conf, ANSYS acuires EDA firm
Creating an Origami Sensor Array
May 1, 2019
The rise of the Internet of Things, the growing role of printed electronics and the increasing number of technologies that mimic nature have all shaped the system's development.
Arena Solutions Offers Arena PLM for AWS GovCloud
April 26, 2019
New software release extends PLM and quality assurance.
Pushing the Printed Electronics Envelope
April 1, 2019
The prospects are real, but we may have to wait a bit before we can experience the full benefit of additive manufacturing in electronics.
Altium Launches "Altium Academic Programs"
March 25, 2019
Programs offer free and low-cost software and support to students and educators, empowering the next generation of PCB designers and engineers.
AIStorm Introduces Real-Time AI-in-Sensor Solutions
March 11, 2019
AI-driven sensor solutions are made for driver assistance, mobile handsets, cameras and IoT.
Integrating Smart Design Under Pressure
March 1, 2019
How a small engineering team evolved from its traditional product design roots to embrace the complexity that comes with smart, connected products.
Siemens Launches Enterprise-Class Embedded Linux Solution
February 26, 2019
New enterprise-class binary Mentor Embedded Linux solution is a commercial distribution that is designed to reduce risk and accelerate productivity for medical, industrial, aerospace and defense application.
Dassault Systèmes to Acquire Trace Software's elecworks Product Line
February 22, 2019
Elecworks is at the core of SolidWorks Electrical applications used for smart product development in high-tech, industrial equipment and energy industries.
FABU Technology Selects Synopsys' DesignWare IP Portfolio for Intelligence in ADAS
February 22, 2019
Portfolio meets AI processing, memory, connectivity and security requirements while accelerating automotive functional safety assessments.
AVX Announces Support for the GEOX DRAGON All-Electric Formula-E Racing Team
February 14, 2019
AVX is promote increasing environmental sustainability, by partnering with Mouser, TTI and Molex to sponsor the GEOX DRAGON racing team for Season 5 of a world all-electric automotive racing series.
Siemens Camstar Electronics Suite Offers Smart Manufacturing Capabilities
February 4, 2019
Single software solution integrates Siemens' Camstar and Mentor's Valor manufacturing execution capabilities.
Zuken to Acquire Vitech Corporation
February 1, 2019
Systems engineering company to help expand Zuken Solutions.
Ruggedized Electronics Require Special Attention
February 1, 2019
Meet the challenge of designing sensitive electronics for harsh environments.
Latest News
America's Cup Challenger American Magic Flies Across the Water with Stratasys 3D Printing
US team for world-renowned competitive sailing event taps into carbon fiber for end-use racing parts.
Artec 3D Launches Artec Micro Industrial Desktop 3D Scanner
Scanner promises quality control of small objects, reverse engineering design and more.
Indo-MIM and Desktop Metal Set Up Partnership to Boost Adoption of Metal 3D Printing
Large metal injection molding company plans to deploy metal 3D printing at scale with the Production System.
AMT on the Importance of Automated Post-Processing for Additive Manufacturing
Company to highlight how its BLAST process intersects material science, hardware engineering and process automation at RAPID + TCT 2019; introduce the...
All posts