Registration Now Open for America Makes Virtual Mini TRX
November 24, 2020
Event to take place December 10, 2020 from 10 a.m. to 4:30 p.m. EST.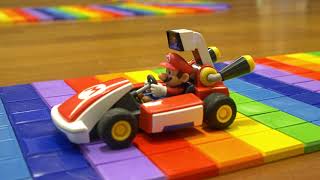 BCN3D 3D Printed the Rainbow Road to Honor Super Mario Bros' 35th Anniversary
November 23, 2020
BCN3D developed and fabricated a 3D printed Rainbow Road for the new Mario Kart Live: Home Circuit (SNES), composed of over 4,400 colorful bricks.
Corel Offers Black Friday Deals on CorelDRAW
November 23, 2020
Company extends holiday savings on products that enhance your productivity, design, photo and video editing.
Hexagon Brings Product-as-a-Service Model to Metrology
November 23, 2020
New offering delivers access to metrology equipment, maintenance, and certifications, eliminating the need for huge capital investments.
SynDaver Offers 3D Printing Holiday Discount
November 23, 2020
Take more than $1,000 off SynDaver Axi 3D printer for Black Friday, Cyber Monday.
Evolve Additive Solutions Partners With Siemens
November 23, 2020
Technology partnership helps enable optimized and automated AM platform for high-volume production, companies say.
Purdue University Uses Machine Learning to Classify Mechanical Objects
November 20, 2020
Purdue University mechanical engineers creates comprehensive open-source annotated database of more than 58,000 3D mechanical parts
America Makes Awards $2.3M in Funding
November 19, 2020
Ten project teams selected to help accelerate the adoption of additive manufacturing and meet needs of the supply chain.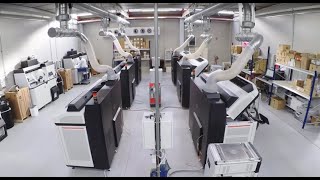 Weerg Doubles Its 3D Printing Department
November 19, 2020
Company reports its largest EMEA installation of HP Jet Fusion 5210 in Gardigiano with the new HP Automatic Unpacking Station.
ESPRIT CAM Collaborates with Alma CAM on Robotics
November 18, 2020
This solution allows Alma to use the full ESPRIT additive DED cycles.
AU 2020Virtual: AI-related acquisition, AEC digital twin, CFD-based generative design, and more
November 18, 2020
At Autodesk University 2020 Virtual, Autodesk announces Spacemaker acquisition, previews Autodesk Tandem, highlights flow-based generative design in Fusion 360
Titan Robotics and Jabil Collaborate on Engineered Materials
November 17, 2020
Partnership to focus on materials for large-format industrial additive manufacturing.
3D Systems Receives FDA Clearance for Vantage Ankle PSI
November 17, 2020
This is a jointly developed end-to-end solution through collaboration with Exactech, which makes joint replacement implants, instruments, and technologies.
Additive Manufactured Eyewear Industry to Grow
November 17, 2020
In the new report, titled, "Markets for 3D Printing Eyewear 2021," the firm analyzes the current market landscape and forecasts the next decade of business opportunities.
Physna Enters the Shape-Search Engine Business
November 16, 2020
Physna employs machine learning and algorithms to identify geometric matches for mechanical parts. TraceParts partner with Purdue University to use machine learning to build open-source database of mechanical objects.
Latest News
Sponsored Content
HPC Helps JSP Perform Ansys Simulations up to 35% More Efficiently
HPC boosts simulation efficiency.
Safran Group Picks MSC Software to Manage Simulation Data
Web-based simulation and test data management system addresses all phases from project initiation through product launch and beyond.
GrabCAD Print Integrates With KeyShot Rendering Software
KeyShot by Luxion is real-time 3D rendering software that allows for intuitive designs and renders.
Registration Now Open for America Makes Virtual Mini TRX
Event to take place December 10, 2020 from 10 a.m. to 4:30 p.m. EST.
All posts