IntelliCAD Technology Consortium and 3Dconnexion Form Integration Partnership
May 14, 2021
The integration between IntelliCAD and 3Dconnexion provides end users with navigation, including QuickZoom functionality, extensive customization options, command access and more.
UBQ Materials and Plastics App Ink Partnership
May 14, 2021
The partnership arises from growing demand for zero-waste supply chain manufacturing to support companies' sustainable development goals.
BigRep and Forward AM Expand Strategic Partnership
May 14, 2021
BigRep and Forward AM, the 3D printing business of BASF, are introducing a material, Concrete Formwork, targeted to the architecture and construction industry.
CIMdata Shares Research Results on Benefits of Cloud/SaaS PLM Adoption
May 14, 2021
This collaborative research program focused on helping answer vital questions about industrial companies' ongoing and planned Cloud/SaaS-related PLM efforts.
Environmental Benefits and Bottlenecks in Metal AM
May 13, 2021
Material specialist ATI points to recyclable materials as key to sustainability, new-part qualification as the bottleneck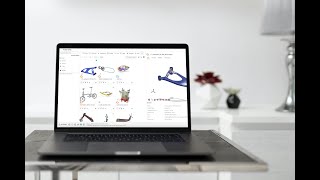 DE Video News Roundup: May 2021
May 13, 2021
Altair Portfolio Goes Online with Altair One, NVIDIA Omniverse Moves from Beta to Commercial, Ansys and Flir partner to develop autonomous driving in the fog, Volume Graphics offer CT scan-based analysis software to find flaws in mechanical parts
Big Plans for Large-Format Printing
May 11, 2021
Massivit is launching new large-format 3D printers for parts and tooling.
Fenix e-Infrastructure Installed at Barcelona Supercomputing Center
May 11, 2021
The new systems provide services such as sovereign cloud computing, object storage and interactive computing.
Texelis Deploys Dassault Systèmes' 3DEXPERIENCE Platform to Develop Heavy-Duty Vehicles
May 11, 2021
Employees at France-based developer and supplier of axles and powertrains are using the 3DEXPERIENCE platform for global product management.
Formula One Team Accelerates High-Performance Computing with Altair
May 11, 2021
Altair enables 97 percent use of HPC infrastructure to optimize processing compute-intensive simulations, powering design.
Desktop Metal Develops Additive Process for Sustainable Wood Parts
May 7, 2021
Forust uses additive manufacturing to upcycle wood byproducts for the production of custom and luxury wood products.
3D Systems Unveils Two Strategic Growth Acquisitions 
May 7, 2021
One acquisition is of the German software firm, Additive Works GmbH, to expand simulation capabilities for rapid optimization of industrial-scale 3D printing processes.
Luxion Names Claus Thorsgaard as New CEO
May 7, 2021
Claus Thorsgaard joins Luxion with extensive, international leadership experience, most recently as CEO at Conscia.
Sponsored Content
OnScale Solve for Education: Helping STEM Educators Adapt to Distance Learning
May 6, 2021
OnShape and OnScale, helped one teacher succesfully create an FEA simulation course during the pandemic.
Nexa3D Expands Partnership with BASF Forward AM
May 4, 2021
Powered by BASF Forward AM, Nexa3D's three new photopolymers support a variety of applications with fast turnaround times.
Latest News
Editor's Picks: May 6-12, 2021
One of the picks will be chosen as DE's Editor's Pick of the Week.
IntelliCAD Technology Consortium and 3Dconnexion Form Integration Partnership
The integration between IntelliCAD and 3Dconnexion provides end users with navigation, including QuickZoom functionality, extensive customization options, command access and...
Volume Graphics Enhances Industrial CT Software Version 3.5
New software version helps detect and correct design flaws and manufacturability issues.
Sakuu Debuts EV Battery 3D Printer
New multi-material, multi-process additive manufacturing platform uses less materials to deliver more energy capacity in the same space or the...
All posts