Top Story
Designing for Real-World Impact
May 17, 2021
Student Competition Profile: CWRU Global Health Design Collaborative
Dassault Systèmes Launches 3DEXPERIENCE Edu Centers of Excellence
October 13, 2021
New program provides businesses and governments with a network of centers for experiential, lifelong learning with the 3DEXPERIENCE platform to accelerate the digital transformation of industry.
Hexagon and Stratasys Partnership Focuses on Aerospace Innovation
October 12, 2021
Collaboration also is designed to help reduce part lead time with certified design-to-3D-print solution for plastics.
EnvisionTEC and Covestro Collaborate on 3D Printing Applications
September 24, 2021
New Resin e-PerFORM, based on SLA Resin Somos PerFORM, has been optimized for EnvisionTEC 3D printers.
Burloak Technologies and Kinectrics Team Up to Make Parts
August 30, 2021
Burloak and Kinectrics will join forces to optimize design and manufacturability of components and replacement parts for applications used in the nuclear power generating process.
2021 CAE Market Snapshots Released
August 23, 2021
Identify the differences in these CAE Market Snapshots.
ventureLAB and Siemens Partner to Boost Canada's Hardware Catalyst Initiative
July 6, 2021
This new partnership will provide companies participating in the Hardware Catalyst Initiative with access to a set of offerings from the Siemens Xcelerator portfolio.
Shapeshift 3D Automates Custom Fit of 3D Printed Hockey Helmet Liner 
June 24, 2021
CCM manufactures a custom 3D printed hockey helmet liner—rather than a foam insert, it is composed of lattice structure that creates a quality helmet that is breathable, safe, and comfortable.
Luxion Releases KeyVR Update
June 22, 2021
KeyVR brings One-Click VR to collaborative design with new control, interface and performance features for enhanced 3D experiences, company says.
Fortify and Rogers Corporation Partner to Develop 3D Printed Dielectric Material Systems
May 28, 2021
The partnership allows both companies to leverage their areas of expertise to unlock scalable manufacturing of high-value RF components.
PRES-X and GPAINNOVA Partner on Precision Surface Finishing
May 25, 2021
PRES-X, a center of excellence (CoE) for research and development in finishing technologies, becomes official distributor for DLyte dry electropolishing machinery in Italy.
Ansys Collaborates to Offer Online Learning with Cornell
May 20, 2021
Ansys and Cornell University join forces to create a dynamic engineering curriculum, enabling engineering students to master simulation.
Designing for Real-World Impact
May 17, 2021
Student Competition Profile: CWRU Global Health Design Collaborative
CIMdata Shares Research Results on Benefits of Cloud/SaaS PLM Adoption
May 14, 2021
This collaborative research program focused on helping answer vital questions about industrial companies' ongoing and planned Cloud/SaaS-related PLM efforts.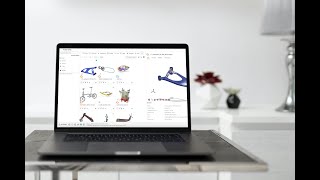 DE Video News Roundup: May 2021
May 13, 2021
Altair Portfolio Goes Online with Altair One, NVIDIA Omniverse Moves from Beta to Commercial, Ansys and Flir partner to develop autonomous driving in the fog, Volume Graphics offer CT scan-based analysis software to find flaws in mechanical parts
Formula One Team Accelerates High-Performance Computing with Altair
May 11, 2021
Altair enables 97 percent use of HPC infrastructure to optimize processing compute-intensive simulations, powering design.
Latest News
Editor's Pick: Increased Flexibility for Simulation-Driven Design
Enhancements and new features focus on increased flexibility for various simulation-driven design workflows.
Creaform Enhances its Suite of Automated Dimensional Quality Control Solutions
Company unveils a model of MetraSCAN-R BLACK software platform and a customizable layout of the CUBE-R turnkey 3D scanning CMM.
MakerBot Unveils Solution to Simplify the ABS 3D Printing Workflow
New MakerBot RapidRinse fast-dissolving support and ABS-R materials aim to make 3D printing industrial applications with ABS easier, company says.
Ansys Releases Metal Stamping Simulation Solution
Ansys Forming can streamline sheet metal forming processes.
All posts