CIMdata Shares Research Results on Benefits of Cloud/SaaS PLM Adoption
May 14, 2021
This collaborative research program focused on helping answer vital questions about industrial companies' ongoing and planned Cloud/SaaS-related PLM efforts.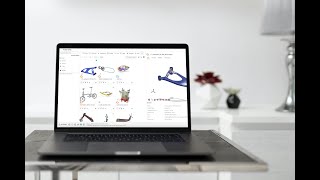 DE Video News Roundup: May 2021
May 13, 2021
Altair Portfolio Goes Online with Altair One, NVIDIA Omniverse Moves from Beta to Commercial, Ansys and Flir partner to develop autonomous driving in the fog, Volume Graphics offer CT scan-based analysis software to find flaws in mechanical parts
Formula One Team Accelerates High-Performance Computing with Altair
May 11, 2021
Altair enables 97 percent use of HPC infrastructure to optimize processing compute-intensive simulations, powering design.
Revolution in Simulation Initiative Continues to Expand
April 22, 2021
Siemens joins growing alliance of sponsors.
Sponsored Content
Editor's Pick: Conduct Secure Engineering Design Reviews 
April 14, 2021
EnSuite-Cloud ReVue is a new secure real-time peer-to-peer CAD collaboration product.
GTC 2021: NVIDIA Launches Omniverse, Develops CPU for Data Centers
April 13, 2021
NVIDIA Omniverse emerges from Beta, CPU codenamed Grace makes debut
Dassault, STMicroelectronics, Others Team Up to Create Software Republique
April 12, 2021
New collaboration to serve as an ecosystem for intelligent and sustainable mobility.
NVIDIA Launches Omniverse Design Collaboration and Simulation Enterprises
April 12, 2021
Computer makers launch workstations and NVIDIA-certified systems for Omniverse; BMW Group, Ericsson, Foster + Partners, WPP among early adopters.
Companies Collaborate to Build Metal Printing Lab
March 17, 2021
Together, the companies have created a turnkey solution to additive and subtractive manufacturing.
Sailing Into Advanced Design
March 15, 2021
Though the America's Cup looks a little different this year, design innovation has contributed to the resiliency of the teams.
Altair and Gruppo Cimbali Use Digital Twin to Boost Barista Business
March 5, 2021
Digital twin supports convergence of data and simulation for optimized product performance and increased efficiency.
Ansys Collaborates with Keysight Technologies
February 25, 2021
Ansys and Keysight's cohesive workflow delivers a comprehensive level of connectivity and automation for advancing design innovation across high-tech sectors, companies say.
Epson and Spinar America Partner to Deliver AR Remote Assistance
February 22, 2021
Epson Moverio AR Smart Glasses and Spinar America "Remote Vision" SaaS product enhances hands-free communication and video conferencing across the globe.
Stanley Black & Decker Partners with Structur3d
February 18, 2021
Structur3d and Stanley worked together during the development process of the Inj3ctor platform to identify the needs of large-scale manufacturers with respect to rubbers and silicones. 
Nexa3D Expands Partnership with Henkel
February 9, 2021
Nexa3D unveils three functional polymers for prototype, production tools and functional end-use parts powered by Loctite high-performance materials with extended UV weathering stability.
Latest News
Editor's Picks: May 6-12, 2021
One of the picks will be chosen as DE's Editor's Pick of the Week.
IntelliCAD Technology Consortium and 3Dconnexion Form Integration Partnership
The integration between IntelliCAD and 3Dconnexion provides end users with navigation, including QuickZoom functionality, extensive customization options, command access and...
Volume Graphics Enhances Industrial CT Software Version 3.5
New software version helps detect and correct design flaws and manufacturability issues.
Sakuu Debuts EV Battery 3D Printer
New multi-material, multi-process additive manufacturing platform uses less materials to deliver more energy capacity in the same space or the...
All posts