AU 2020Virtual: AI-related acquisition, AEC digital twin, CFD-based generative design, and more
November 18, 2020
At Autodesk University 2020 Virtual, Autodesk announces Spacemaker acquisition, previews Autodesk Tandem, highlights flow-based generative design in Fusion 360
Technology, Culture and Innovation
November 1, 2020
Vendors and customers will need to openly evaluate their needs and capabilities, and craft technology solutions that address real-world design problems.
A Match Made in Heaven
November 1, 2020
Additive manufacturing and generative design tools can be tapped as a dynamic duo to create and build parts fully optimized for weight and cost.
Lighter by Design
November 1, 2020
Generative design can help engineers meet new lightweighting requirements.
A Glimpse of the Generative Design Market
November 1, 2020
Analysts speculate market impacts of COVID-19, and find ways to evaluate software efficiency.
Sponsored Content
Editor's Pick: CPU Replete With 64 Cores
October 28, 2020
The company says this newest Threadripper is equipped with abundant storage and memory capacity, and vast expansion capabilities.
ParaMatters 4.0 Generative Design Software Opens New Door to Automation
October 22, 2020
Autonomous generative design platform offers structural and thermal design and analysis, support structures and build orientation optimization for entire design-to-manufacturing process with various loading conditions.
NASA's Jet Propulsion Lab Picks SciArt's Generative Design Tool
October 2, 2020
SciArt's topology optimization engine generates the lightest weight solutions for complex design problems, the company reports.
Podcast: Desktop Metal AM 2.0, Going Public, More
September 21, 2020
Metal AM hardware maker discusses the technology's transition from prototyping to manufacturing
Can Generative Design Go Mainstream?
September 18, 2020
Software vendors have made big investments, but there are barriers to practical adoption.
Autodesk Manufacturing Summit: Betting on Generative Design and Additive Manufacturing
September 4, 2020
Autodesk showcases Fusion 360 during virtual event, promotes generative design and 3D printing for collaborative product development during the new normal.
MSC Software Touts New `Thinks Like an Engineer' Tool
July 29, 2020
MSC Apex Generative Design 2020 allows engineers to explore and optimize designs in a single step to accelerate innovation.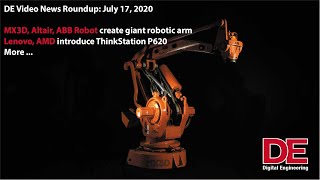 MX3D Makes 3D-Printed Robotic Arm, Lenovo and AMD Partner for New Workstation, Autodesk Releases Generative Design Extension, More
July 15, 2020
MX3D Makes 3D-Printed Robotic Arm, Lenovo and AMD Partner for New Workstation, Autodesk Releases Generative Design Extension, More
Generative Design in Autodesk Fusion 360 Now More Accessible and Flexible
June 26, 2020
To help Fusion 360 users extend their design exploration capabilities on a regular basis, the company is offering unlimited access to the generative design functionality as a separate subscription.
Can Generative Design Spark a Design Paradigm Shift?
June 18, 2020
Generative Design's automated processes and use of simulation early on drives designs from a performance and manufacturability perspective.
Latest News
Theorem Solutions Debuts V23.3 CATIA V5 TO CREO Release
The CADverter product translates assembly structure, geometry, attributes and where available 3D Product Manufacturing Information (PMI) and Metadata between CATIA...
BCN3D 3D Printed the Rainbow Road to Honor Super Mario Bros' 35th Anniversary
BCN3D developed and fabricated a 3D printed Rainbow Road for the new Mario Kart Live: Home Circuit (SNES), composed...
Corel Offers Black Friday Deals on CorelDRAW
Company extends holiday savings on products that enhance your productivity, design, photo and video editing.
Hexagon Brings Product-as-a-Service Model to Metrology
New offering delivers access to metrology equipment, maintenance, and certifications, eliminating the need for huge capital investments.
All posts