Top Story
Additive Manufacturing is Leaving the Island
With 3D printing growing increasingly mainstream, manufacturing execution systems are a tool against equipment downtime and production floor chaos.
Software-integrated plug-ins and online analysis pave the way for on-demand manufacturing.
Featured Companies
Protolabs Celebrates 20 Years of Digital Manufacturing with Grand Opening of New Facility
May 17, 2019
New advanced manufacturing facility spotlights company's two decades of growth. .
Fabrisonic Launches SonicLayer 1200
May 16, 2019
The SonicLayer 1200 features ultrasonic additive manufacturing (UAM) technology.
Hexagon's Manufacturing Intelligence Division Breaks Ground on New Center in Detroit Area
May 7, 2019
Hexagon's Manufacturing Intelligence division is constructing a new expansion project on a site in Novi, MI, slated for completion in the fall of 2019.
OPEN MIND/ hyperMILL Announce Joint 5-Axis Machining Technology Seminar with GROB Systems
April 26, 2019
During the seminar, experts from GROB Systems and OPEN MIND will demonstrate ways for manufacturers to make their production facility more efficient.
Hexagon Releases Latest Update of EDGECAM
April 25, 2019
New release supports fast 5-axis machining tools; software features barrel cutter support and new gun drilling cycle.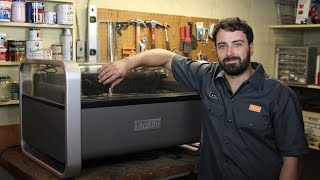 WAZER Offers Desktop Take on Traditional Water Jet
March 19, 2019
WAZER offers sophisticated cutting and material processing capabilities at a price point and with the accessibility of desktop office printers.
CNC Software Updates Name of Wildest Parts Competition
March 15, 2019
Masters of CAM is an online platform for Mastercam users to submit stories about their experience and skills using CAD/CAM software to design and machine parts.
SmartCAMcnc Releases New Software Subscription Options
March 14, 2019
Company says annual subscription provides lower entry costs; SmartCAM standard license offerings are also price reduced.
Editor's Picks: March 7-13, 2019
March 14, 2019
One of the picks will be chosen as DE's Editor's Pick of the Week.
MecSoft Releases AlibreCAM 2019
March 5, 2019
This is the latest version of MecSoft's fully integrated CAM solution for Alibre Design 2018.
Editor's Picks: February 14-15, 2019
February 18, 2019
One of the picks will be chosen as DE's Editor's Pick of the Week.
Partner Content
Visual Manufacturing
February 15, 2019
Modern CAM tools benefit from high-end visualization to keep up with faster speeds, more complex toolpaths.
ZW3D Review: Model and Manufacture
February 1, 2019
ZWSoft updates its all-in-one CAD/CAM program.
JETCAM Releases v20.25.00 of Expert Nesting Software, v3.19 of JOC Automation Software
January 8, 2019
The latest release of JETCAM Expert is said to benefit from several major enhancements, including application of fly cutting during the tooling process.
ZW3D 2018 Review: Model and Manufacture
December 19, 2018
One of the things that sets ZW3D apart from most of its competitors is the fact that it integrates both CAD and CAM tools in a single package.
Latest News
America's Cup Challenger American Magic Flies Across the Water with Stratasys 3D Printing
US team for world-renowned competitive sailing event taps into carbon fiber for end-use racing parts.
Artec 3D Launches Artec Micro Industrial Desktop 3D Scanner
Scanner promises quality control of small objects, reverse engineering design and more.
Indo-MIM and Desktop Metal Set Up Partnership to Boost Adoption of Metal 3D Printing
Large metal injection molding company plans to deploy metal 3D printing at scale with the Production System.
AMT on the Importance of Automated Post-Processing for Additive Manufacturing
Company to highlight how its BLAST process intersects material science, hardware engineering and process automation at RAPID + TCT 2019; introduce the...
All posts