Top Story
3D Printing, CT Scanning for Supply Chain Resilience
Desktop Metal and Lumafield create all-in-one scanning and additive manufacturing solution to copy and produce parts anywhere.
Purdue University company leverages machine learning to create closed-loop, smart controls to enhance 3D print quality.
3D Printing, CT Scanning for Supply Chain Resilience
May 17, 2022
Desktop Metal and Lumafield create all-in-one scanning and additive manufacturing solution to copy and produce parts anywhere.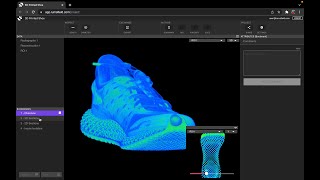 CT Scan for Engineering Parts
May 9, 2022
Lumafield develops CT scanner for engineering diagnosis
Scanning the World One Artifact at a Time
April 14, 2022
3D scanning helps make museum culture accessible to communities.
Exact Metrology Debuts Next Generation of Artec Micro
April 11, 2022
This is a high-precision industrial desktop 3D scanner, designed to deliver scans in one click, the company reports.
CAPTURE 3D Unveils GOM Scan 1
March 18, 2022
GOM Scan 1 is a high-tech portable 3D scanner designed for the industrial engineer who needs to digitize small to medium-sized objects at an affordable price.
Exact Metrology Offers AI-Powered HD Mode in 3D Scanners
February 1, 2022
Powered by Artec 3D's AI neural engine, users can obtain sharp 3D scans with a resolution of up to 0.2 mm.
3D Scanning Boulevard: At the Intersection of Prototyping and Hollywood
November 1, 2021
There are actually some significant engineering lessons that could be taken from Tinsel Town and used by product designers everywhere. 
Creaform Enhances its Suite of Automated Dimensional Quality Control Solutions
October 20, 2021
Company unveils a model of MetraSCAN-R BLACK software platform and a customizable layout of the CUBE-R turnkey 3D scanning CMM.
Artec 3D Handheld Scanners Get Upgrade
October 19, 2021
Product enhancements include artificial intelligence powered scanning technology.
Artec 3D Launches Artec Studio 16 Featuring Artec Cloud, Enabling Collaboration from Anywhere
September 27, 2021
The new release features Artec Cloud, which enables collaboration from anywhere.
Editor's Pick: New reverse engineering software
September 15, 2021
Hexagon Manufacturing Intelligence REcreate turns 3D data from various sources into a model made for further design work or 3D printing. 
Hexagon's Reverse Engineering Solution to be Shown at RAPID + TCT 2021
September 7, 2021
New REcreate redefines reverse engineering with a flexible design approach, company says.
Introducing the New Reverse Engineering
September 1, 2021
Digitalization has created a revolution in reverse engineering. How can engineers best use these new capabilities?
Hänssler Group Benefits From Dimensional Accuracy Using Kimya's ABS-ESD on Ultimaker S5
August 13, 2021
The company uses Ultimaker S5 and Kimya's ABS-ESD to cost-effectively produce 300 accurate sealant parts annually with anti-electrostatic properties.
In-Place Machining Company Acquires Exact Metrology
July 21, 2021
As part of the In-Place Machining Company long-term growth strategy, this acquisition will expand In-Place Machining Company's service offerings to include 3D scanning and more.
Latest News
Sunway Communication Partners with BMF
Partnership to focus on development of next-gen antenna.
NUBURU and Essentium Partner
Collaboration to enable the companies to launch blue laser-based wire feed metal 3D printers.
BMW Group and Ansys Co-Developing Simulation Software
The two companies join forces to implement simulation capabilities leading to advances in automated/autonomous vehicle technology.
Hopium Uses Dassault Systèmes' 3DEXPERIENCE Platform
Plan is for Hopium to design and develop Its hydrogen-powered high-end vehicle, companies say.
All posts