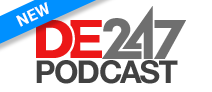 Listen in to
DE's new podcast channel.
Find us on
Apple Podcasts
,
Google Play Music
or Subscribe
via RSS
. Subscribe
via iTunes here
.
Check out our latest episode
.
Leadership Profile: Matt Sederberg of Coreform Discusses how Isogeometric Analysis can Improve Workflows
February 1, 2023
Coreform IGA allows users to perform simulations directly on CAD models.
Leadership Profile: QRA Founder Jordan Kyriakidis Discusses the Evolution of Requirements Writing
January 24, 2023
Automation and natural language processing can streamline requirements development and improve quality.
Leadership Profile: Cadence' John Chawner Discusses the Evolution of CFD
January 17, 2023
Cadence expands from electronics to system-wide simulation with acquired technologies
Leadership Profile: TotalCAE's Rodney Mach on How Shorter Time to Market Accelerates Simulation Adoption
January 11, 2023
TotalCAE's Rodney march on how the pressure to bring products to market fast forces manufacturers to adopt HPC-powered simulation
DE Leadership Profile: ESTECO on the Spread of Predictive Simulation
January 9, 2023
ESTECO's President Carlo Poloni discusses how the purpose of simulation shifts from verification to prediction
Make48 Hosts 48-hour Design Challenge for Kansas State School for the Blind
December 16, 2022
Make48 hosts design challenge for Kansas State School of the Blind, contest sponsored by Onshape
Editors' Chat: Rise of Cloud Platforms, AWS-Powered Simulation, Formnext News, More
December 2, 2022
DE editors discuss the news of cloud platforms from AU, AWS-Powered simulation, additive news from Formnext, and more
DE Editors' Chat: Carbon Buys ParaMatters, PTC Buys CloudMilling, More
September 19, 2022
DE Editors discuss recent acquisitions news. PTC Buys CloudMilling, Carbon Buys ParaMatters, Materialise Buys Identify3D, TechSoft Buys Redway3D
Analyst Discusses Recent Dip in GPU and PC Shipments
September 12, 2022
JPR's Jon Peddie explains why the dip in PC and GPU shipment in 2022 Q2 is not as alarming as it appears
Industrial IOT Consortium Publishes Security Maturity Model for Digital Twins, Map Out Responsibilities
August 24, 2022
The Industrial IOT Consortium publishes IoT Security Maturity Model 62443 Mappings for Asset Owners, Product Suppliers and Service Providers
Bob Meyer, Former CEO of IMSI Design: Reflects on CAD Industry
August 22, 2022
Long-time CAD veteran Bob Meyer, former CEO of IMSI Design, reflects on CAD industry's advances, weaknesses, and future.
New SolidWorks CEO Discusses AI, Generative Design, Virtual Twins
March 11, 2022
Long-time R&D veteran Manish Kumar steps up to become CEO, envisions natural interactions driven by AI
Podcast: Transforming the Process of Simulation
January 25, 2022
With VCollab, 3D Digital CAE Reports can be created no matter what major CAE solver a company is using.
Podcast: Better, Faster Engineering Workstations
January 25, 2022
Velocity Micro has nearly 25 years of experience building ultra-fast workstations optimized for CAD, CAM, and other design applications.
Podcast: How CoLab is Modernizing Collaboration for Mechanical Engineering Teams
January 25, 2022
CoLab's web-based platform makes it easy to securely share and review CAD with anyone.
Latest News
Collaboration Enables Real-Time 3D Print Process Monitoring
Sigma Additive, Materialise integrate PrintRite3D and Materialise Process Control offerings.
3D Systems, TE Connectivity Partner on Printed Electrical Connectors
New workflow will allow production of end-use parts in weeks versus months.
Companies Struggle to Get 3D Printing Right
Materialise survey finds challenges hamper AM adoption, but organizations see the value, committed to expanding usage over time.
Optomec Releases Software for Production 3D Printed Electronics
Software enables fully automated process sequencing for advanced 3D semiconductor packaging.
All posts