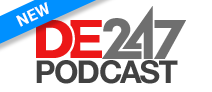 Listen in to
DE's new podcast channel.
Find us on
Apple Podcasts
,
Google Play Music
or Subscribe
via RSS
. Subscribe
via iTunes here
.
Check out our latest episode
.
Editors' Chat: Rise of Cloud Platforms, AWS-Powered Simulation, News from Formnext, and More
December 2, 2022
DE editors discuss the news of cloud platforms from AU, AWS-Powered simulation, additive news from Formnext, and more
DE Editors' Chat: Carbon Buys ParaMatters, PTC Buys CloudMilling, More
September 19, 2022
DE Editors discuss recent acquisitions news. PTC Buys CloudMilling, Carbon Buys ParaMatters, Materialise Buys Identify3D, TechSoft Buys Redway3D
Analyst Discusses Recent Dip in GPU and PC Shipments
September 12, 2022
JPR's Jon Peddie explains why the dip in PC and GPU shipment in 2022 Q2 is not as alarming as it appears
Industrial IOT Consortium Publishes Security Maturity Model for Digital Twins, Map Out Responsibilities
August 24, 2022
The Industrial IOT Consortium publishes IoT Security Maturity Model 62443 Mappings for Asset Owners, Product Suppliers and Service Providers
Bob Meyer, Former CEO of IMSI Design: Reflects on CAD Industry
August 22, 2022
Long-time CAD veteran Bob Meyer, former CEO of IMSI Design, reflects on CAD industry's advances, weaknesses, and future.
New SolidWorks CEO Discusses AI, Generative Design, Virtual Twins
March 11, 2022
Long-time R&D veteran Manish Kumar steps up to become CEO, envisions natural interactions driven by AI
Podcast: Transforming the Process of Simulation
January 25, 2022
With VCollab, 3D Digital CAE Reports can be created no matter what major CAE solver a company is using.
Podcast: Better, Faster Engineering Workstations
January 25, 2022
Velocity Micro has nearly 25 years of experience building ultra-fast workstations optimized for CAD, CAM, and other design applications.
Podcast: How CoLab is Modernizing Collaboration for Mechanical Engineering Teams
January 25, 2022
CoLab's web-based platform makes it easy to securely share and review CAD with anyone.
Podcast: Remove Silos, Rethink Designs & Accelerate Your Work on One Platform
January 25, 2022
The 3DEXPERIENCE platform helps users collaborate and share their work, no matter where they are.
Sponsored Content
Podcast: HPC Everywhere
January 20, 2022
In this podcast, we talk to TotalCAE about cloud and on-premises HPC resources
Sponsored Content
Podcast: Additive Manufacturing Without Compromise
January 6, 2022
Velo3D fulfills the original promise of AM by providing a complete end-to-end metal 3D printing solution for mission-critical parts
Sponsored Content
Podcast: Simulate Early and Often
January 6, 2022
Broad access to simulation: it's a matter of survival for engineering teams. SimScale is making it happen —now.
Sponsored Content
Podcast: People, Processes and Technology Orchestration in One Platform
January 5, 2022
ESTECO VOLTA moves to the next level by introducing a business process management layer on top of the Simulation Product and Data Management, and Design Optimization capabilities.
Sponsored Content
Podcast: Ultrafast 3D Design at the Desktop
January 5, 2022
Design engineering teams face tight deadlines and high demands. A digitized, ultrafast 3D print workflow can maximize productivity and exceed quality expectations.
Latest News
PTC Advances Closed Loop PLM
Acquisition of ServiceMax keyed to integration of asset and field service management capabilities to extend digital thread.
Hexagon Debuts System-Level Modeling Solution
Using the software, teams can evaluate the performance and feasibility of new design concepts quickly to inform more efficient product...
Editor's Picks: November 25-December 1, 2022
One of the picks will be chosen as DE's Editor's Pick of the Week.
Taking a Page from Nature
GE Additive and Shell leveraged metal AM to rethink a large, complex conical part for an oxygen hydrogen micromixer.
All posts