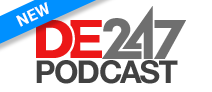 Listen in to
DE's new podcast channel.
Find us on
Apple Podcasts
,
Google Play Music
or Subscribe
via RSS
. Subscribe
via iTunes here
.
Check out our latest episode
.
3MF Joins Linux Foundation: How Will This Change Your 3D Printing Workflow?
August 11, 2020
3MF Consortium's Exec. Director Luis Baldez discusses STL vs. 3MF, benefits of joining Linux Foundation, and more
Fictiv, Xometry Discuss Manufacturing Interruptions from COVID 19
July 28, 2020
On-demand manufacturing service providers urge supply chain shuffling, seeking local partners closer to home.
Podcast: CT Scanning Improves Product Quality
July 21, 2020
In our latest podcast, Ashley Bray of Volume Graphics describes the benefits of CT scanning for inspection and quality analysis, as well as how the technology combined with the right software can bridge the gap between simulation and reality.
PODCAST: Shutdown's Impact on Workstation Purchase, Electronics Manufacturing
July 16, 2020
Lenovo and MacroFab discuss mobile workstation sales and PCB production during the new normal
OVR: Stop and Smell the Roses in VR
June 15, 2020
Company aims to augment VR with sense of smell via its Architecture of Scent system.
DE Podcast: Analyst Jon Peddie Explains COVID-19's Effect on the GPU Market
June 4, 2020
JPR releases graphics market report for 2020 Q1, shipments down, growth blunted by Coronavirus and shutdowns
DE Podcast: Reexamining the Role of Digital Twins in the Era of Social Distancing
June 3, 2020
Ansys discusses the use of digital twins in engineering projects while following social distancing rules
Sponsored Content
Enabling Simulation-Driven Design
May 26, 2020
In our latest podcast, Digital Engineering talks to COMSOL's Phil Kinnane about democratization of simulation.
Expanding Role of Tolerance Analysis
May 21, 2020
In our latest podcast, Digital Engineering talks to Ed Walsh, VP of Global Sales at Sigmetrix, about the expanding importance of tolerance analysis.
Harvey Mudd College Professor on Teaching Robotics, Circuit Design in Lockdown
May 11, 2020
Harvey Mudd College Professor continues teaching circuit design and robotics lab courses under lockdown using take-home Arduino kits
COVID-19 Impact on AR/VR a Mixed Bag: Interview with Lenovo
May 7, 2020
Lenovo Commercial ARVR Lead Discusses Coronarivus Impact on Business, training and remote assistance emerges as solid deployment reasons
Sponsored Content
Siemens Keeps Engineers Connected During Pandemic
April 29, 2020
Digital Engineering talks to Siemens' Brenda Discher about the company's efforts to support customers during the COVID-19 pandemic.
Teaching Additive Manufacturing Under Lockdown
April 13, 2020
Penn State University Professor, Dr. Guha Manogharan, uses virtual machines and simulation software to continue advanced additive manufacturing instruction. Guha teaches a graduate lab course on metal additive manufacturing and design.
Car Makers Answer the Call for Ventilator Production
March 25, 2020
As automakers consider how to address the shortage of ventilators in the Coronavirus outbreak, industry veterans share their thoughts on the struggles and challenges. Join us for this podcast with CIMdata's Keith Meintjes and industry consultant Joe Barkai.
Are Desktop 3D Printers Safe to Use?
December 13, 2018
Georgia Tech and UL Chemical Safety publish two-year study on 3D printers, raises concerns for potentially hazardous levels of ultrafine particles, and numerous volatile organic compounds associated with machine operation.