Top Story
DE Video News Roundup: Update on CoVent 19 Ventilator Design Challenge, 3D Print and Scan in Medieval Church Restoration, More
May 27, 2020
In Video News Roundup for May 29, 2020, the Covent-19 ventilator design challenge enters phase II, 3D printing and scanning firm Prototek helps restore Florence Baptistery cathedral door, Autodesk Fusion 360 adds 3D printing tools, 3D Heals virtual conference set for June
Stratasys Announces Strategic Resizing to Accelerate Growth
June 4, 2020
Measure reflects shift to leaner operating model.
HP Introduces Polypropylene Material to Expand 3D Printing Market
June 4, 2020
Update includes new PP material for final parts, expanded alliance with BASF, new digital manufacturing partnership with Oechsler and new Metal Jet milestone.
Editor's Pick: Closing the gap on 3D printing expertise 
June 3, 2020
Materialise Mindware is billed as an advisory service to offer businesses strategic, tailored and technology-neutral insights on 3D printing usage. 
AMCM Begins Serial Production of Its AMCM M 4K Industrial Metal 3D Printer
June 2, 2020
The customized, high-performance Direct Metal Laser Solidification (DMLS) printers now in production at AMCM's newly expanded facility.
SynDaver Launches U.S.-made 3D Printer
June 1, 2020
Printer includes extensive feature set, 3-year warranty.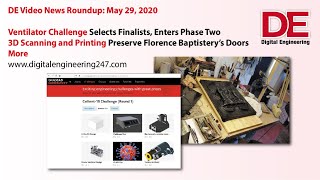 DE Video News Roundup: Update on CoVent 19 Ventilator Design Challenge, 3D Print and Scan in Medieval Church Restoration, More
May 27, 2020
In Video News Roundup for May 29, 2020, the Covent-19 ventilator design challenge enters phase II, 3D printing and scanning firm Prototek helps restore Florence Baptistery cathedral door, Autodesk Fusion 360 adds 3D printing tools, 3D Heals virtual conference set for June
Element Signs Contract With Morf3D
May 26, 2020
The work for Morf3D will include a full range of materials testing: powder characterization, chemistry, metallurgical, mechanical and fatigue testing. 
Nexa3D Partners with 3DZ to Enter the Southern European 3D Printing Market 
May 26, 2020
Stereolithography 3D printer continues to expand its global reseller network throughout Europe.
Editor's Pick: Print nylon carbon fiber parts on the desktop
May 25, 2020
MakerBot says the new material is optimized for high strength, heat resistance and stiffness. 
Delta WASP 3MT CONCRETE 3D Printer Available
May 22, 2020
This concrete 3D printer, Delta WASP 3MT INDUSTRIAL 4.0 LDM is optimized for large 3D printing.
MakerBot Launches Carbon Fiber Edition of METHOD X
May 21, 2020
New materials and specially-designed extruder allow for printing of carbon fiber reinforced nylon optimized for high strength and heat resistance.
Materialise Launches Mindware, Advisory Service for 3D Printing 
May 21, 2020
Solution offers business managers a direct line of access to strategic, tailored advice on using 3D printing to address their business needs and challenges.
Optomec Introduces Production Automation Solution for 3D Metal Additive Repair 
May 21, 2020
Integrates laser cladding with robotic loading for autonomous batch processing.
Raise3D Launches All-in-one Software Solution
May 19, 2020
The combination of Raise3D slicing and Print Management software—ideaMaker and RaiseCloud—has allowed users to send their model to their 3D printer and monitor the print process.
CAASE20: AM-Focused Tracks and Talks in Upcoming Simulation Conference
May 18, 2020
Virtual simulation conference lineup includes trends and practices in generative design, lightweighting, 3D printing, assembly consolidation, lattice design, and more.
Latest News
Saratech acquires Apex DMS Inc., a Siemens PLM software business, from the Sconce Group
Apex DMS is a Siemens PLM software business, from the Sconce Group.
Siemens Updates Simcenter System Simulation Solutions
These system simulation solutions help enable engineers to rapidly build models before the first physical prototype becomes available.
DE Podcast: Analyst Jon Peddie Explains COVID-19's Effect on the GPU Market
JPR releases graphics market report for 2020 Q1, shipments down, growth blunted by Coronavirus and shutdowns
Mastercam 2021 is Now Released
CAD/CAM developments streamline the manufacturing process from job setup to job completion.
All posts