Resources
Technology Focus: Simulation and Design Data Management
In this special digital edition, we take a look at emerging product lifecycle management (PLM) and product data management (PDM) innovations, as well as the emerging area of simulation data management (SDM). These technologies…
More Design Exploration and Optimization Resources
Autodesk Modifies Generative Design Extension Pricing
June 7, 2021
Autodesk introduces new pricing policy to promote Generative Design adoption
Raytheon Missiles & Defense Picks ESTECO's VOLTA  for its Digital Engineering Framework  
June 1, 2021
VOLTA is aligned to Raytheon's end-to-end approach to digital transformation, the companies report.
Noesis Optimus 2021.1 Opens Up Faster Engineering Workflows
April 27, 2021
The latest release offers features that are built to simplify the integration of engineering processes in simulation departments, the company reports. 
Syroco Uses ESTECO Technology to Design Fast Sailboat
April 1, 2021
Syroco aims to optimize the energy efficiency of the craft so that it can perform most effectively on water and reach the targeted speed of 80 knots (150 km/h), powered only by the wind. 
VOLTA and modeFRONTIER Release 2021 | Spring on Market
March 12, 2021
With the VOLTA Planner, you can now create, reuse, and apply multiple plans on top of the same simulation workflow.
GPUs Give Simulation and Analysis a Turbo Boost
December 15, 2020
More CAD, CAE vendors decide to leverage GPUs in product offerings.
Sponsored Content
Podcast: Engineering Process Optimization
December 11, 2020
We talked to ESTECO to learn how process optimization and automation can improve design.
Can AI Take Simulation to a New Level?
November 16, 2020
Vendors explore the impact of machine learning for simulation models and processing.
The Human Side of Simulation
July 31, 2020
Incorporating human body models as part of simulation-driven design improves design outcomes, resulting in highly personalized, safer products.
Technology Focus: Simulation and Design Data Management
July 23, 2020
In this special digital edition, we take a look at emerging product lifecycle management (PLM) and product data management (PDM) innovations, as well as the emerging area of simulation data management (SDM). These technologies can help engineers leverage existing data...
Ansys Discovery Reduces Engineering Labor by 26%
July 17, 2020
Simulation-driven design tool combines instant physics simulation, interactive geometry modeling.
Ansys 2020 R2 Launched
July 15, 2020
Platform enhancements accelerate collaborative design and product delivery.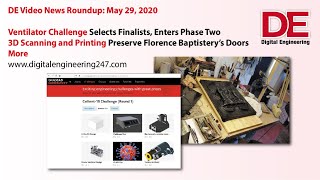 DE Video News Roundup: Update on CoVent 19 Ventilator Design Challenge, 3D Print and Scan in Medieval Church Restoration, More
May 27, 2020
In Video News Roundup for May 29, 2020, the Covent-19 ventilator design challenge enters phase II, 3D printing and scanning firm Prototek helps restore Florence Baptistery cathedral door, Autodesk Fusion 360 adds 3D printing tools, 3D Heals virtual conference set for June
IntrinSIM Unveils Inaugural Generative Design Workflow Assessment for Autodesk Fusion 360
March 3, 2020
Report evaluates Autodesk Fusion 360 against key capability areas and workflows for generative design applications.
Big Compute 20: Tackling the Big Issues for a Better Future
March 2, 2020
HPC service provider Rescale and partners host conference on use of high performance computing
Latest News
Azul 3D Launches LAKE Printer 
With throughput and an array of materials, the Lake printer will enable manufacturers to consider 3D printing for a wide...
Editor's Picks: Sept. 16-22, 2021
One of the picks will be chosen as DE's Editor's Pick of the Week.
Editor's Pick: Software Suite Built for Directed Energy Deposition Additive Manufacturing
FormAlloy DEDSmart is a software suite intended to complement the company's line of directed energy deposition additive manufacturing machines.
Compact Rugged Computers from OnLogic Enable IoT and Edge Computing
The OnLogic Karbon 400 Series leverages the Intel Atom x6000E Series CPUs in a pair of ruggedized computers engineered for...
All posts