Top Story
COVID-19 Spike Puts Remote Collaboration to the Test
Design tool vendors ease licensing restrictions and aim for scalability to meet surge in demand from work-at-home engineers.
As automaker consider how to address the shortage of ventilators in the Coronavirus outbreak, industry veterans share their thoughts on the struggles and challenges
Featured Companies
VCollab helps manufacturers realize the full benefits of simulation by making actionable, 3D simulation insights easily accessible to anyone in...
More about
PTC Invites You to Use Vuforia Chalk for Free Amidst COVID-19 Crisis
March 27, 2020
PTC's remote assistance product, Vuforia Chalk, leverages augmented reality (AR) to enable offsite and on-site employees to collaborate.
Dassault Systèmes' Teams With Partners and Clients to Face COVID-19 Challenges
March 27, 2020
The 3DEXPERIENCE platform on the cloud is fully operational, providing advanced remote work capabilities to organize, plan, track and execute project development remotely
Update on COVID-19 Response from America Makes
March 24, 2020
The institute reports that it is actively working on creating a central repository of partners that are ready and willing to assist in this time of crisis.
HP Inc. and Partners Mobilize 3D Printing Solutions to Battle COVID‐19 
March 24, 2020
Many 3D design files to be made freely available to accelerate critical parts production.
Royal DSM Partners With Juggerbot 3D, an AM Machine Builder
March 20, 2020
The company is partnering with Juggerbot 3D, an additive manufacturing machine builder who recently developed a printer equipped with extrusion technology.
Centric Software Launches Quick-Start Collaboration Packages
March 20, 2020
Company aims to help companies manage remote work and team collaboration in the face of market disruption.
FANUC America Partners With TITANS of CNC to Help Bridge the Skills Gap
March 12, 2020
The education platform offers students the support, education and training to help prepare them for careers in high-tech manufacturing.
Simufact and Renishaw Collaborate to Streamline Additive Manufacturing Simulation and Build File Preparation
March 10, 2020
The two companies are also working together on improved simulation of the complex metallurgy of commonly used materials to enable successful prediction, and compensation, of stress and distortion during the printing process.
Sponsored Content
Simulation's Missed Opportunity
March 4, 2020
Those of us in the simulation domain are well aware that the design insights revealed through simulation can dramatically speed product development, improve product quality, and lower the overall costs of products.
Sponsored Content
The Untapped Opportunity in Simulation
March 3, 2020
Industry analyst Chad Jackson shows how simulation is needlessly constrained, and how VCollab solves these challenges.
Arvizio Launches XR Connect
February 17, 2020
Multi-User XR now available for CAD, BIM and Point Cloud Visualization with Magic Leap 1, HoloLens 2 and Mobile AR.
TECHNIA Signs SolidWorks Distribution Agreement With Dassault Systèmes
February 11, 2020
TECHNIA currently distributes Dassault Systèmes' 3DEXPERIENCE platform and various applications such as CATIA, BIOVIA, DELMIA, ENOVIA, SIMULIA and more.
How the New Coronavirus is Affecting Engineering Projects
February 10, 2020
The new Coronavirus-related factory shutdowns may be largely confined to China, but the impact goes beyond China's borders.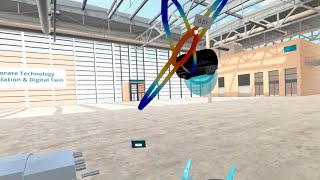 Autodesk Fusion adds ECAD tools, Siemens develops CAD for VR, JPR publishes CAD report, more
February 6, 2020
Autodesk Fusion adds ECAD tools, Siemens develops CAD for VR, JPR publishes CAD report, more
Mixed Experiences Ring in New Era of Design Collaboration
February 1, 2020
AR/VR brings enhanced visual context to design collaboration, reducing time-to-delivery cycles and resulting in better products.
Latest News
Academia Pitches in to Make PPE
Schools and universities with production capacity begin making face shields.
Editor's Picks: April 2-8, 2020
One of the picks will be chosen as DE's Editor's Pick of the Week.
3D printers rally to make PPE, simulation examines social distancing
Professional and hobbyist 3D printers join the race to make PPE, simulation reveals social distancing's effectiveness
Manufacturers Re-Tool to Address Pandemic
Companies across the country are shifting production capacity to help address medical equipment shortages.
All posts