Top Story
UL Study Identifies Hazardous 3D Printer Emissions
November 12, 2018
Ultrafine particle and VOC emissions may pose a health risk; new 3D printer emissions standard available for review.
XJet Debuts New Ceramic Material and Soluble Support Material
November 19, 2018
XJet also announced its entry into Italy with a new Carmel 1400 AM System to be installed at Beam-IT, Italy's largest additive manufacturing bureau, before the end of the year.
LulzBot Expands Into High-Strength 3D Printing
November 19, 2018
The new HS (hardened steel) tool heads enable 3D printing of industrial-grade composites.
Authentise Teams with Autodesk for Additive Workflow
November 19, 2018
It is collaborating with Autodesk to release an integration that makes use of Autodesk's Netfabb software with Authentise's additive workflow management tools.
Deko 3D by Sepia Completes 3D Service Offering with Massivit 3D Printing Solution
November 19, 2018
The Massivit 1800 will complement the company's CNC machines.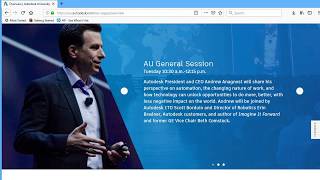 DE News Roundup: November 16, 2018
November 16, 2018
3D printing study on particle emission risk, Autodesk improves generative design, PLM vendor Arena Solutions buys rival Omnify, Nano Dimensions 3D prints radio frequency amplifier.
XYZprinting Unveils New 3D Printers
November 16, 2018
New digital light processing, stereolithography and fused filament fabrication 3D printers promise larger build sizes and faster speeds.
Siemens Introduces Additive Manufacturing Process Simulation Solution
November 16, 2018
The AM Process Simulation solution uses a digital twin to simulate the build process prior to printing, anticipating distortion within the printing process and automatically generating the corrected geometry to compensate for these distortions.
3MF 3D Printing Format Adopted By 17 Companies
November 16, 2018
Autodesk, HP, Microsoft, Siemens, others use 3MF for additive manufacturing solutions.
EnvisionTEC Debuts 4K 3D Printer
November 16, 2018
It's a DLP-based 3D printer utilizing a true 4K projector with UV optics tuned to 385nm wavelength. Three models are available for a choice of resolution and size capabilities.
Mastercam Mill Focused on Streamlining Your Manufacturing Process
November 16, 2018
Two-dimensional high speed toolpaths, 3D enhancements and multiaxis features combine with additional new enhancements in a software package intended to improve shop floor productivity.    
Gillette, Formlabs Partner on Customized, 3D-printed Razors
November 15, 2018
Razer Maker project creates customized razor handles.
GKN Teams with PostNord AB; Sets Up Partnership with EOS
November 15, 2018
The companies are focused on logistics for 3D-printed parts. Collaboration set to reduce time to market by up to 48 hours; partnership with EOS reduces part production time by 70%.
Optomec Now Features Simultaneous 5-Axis Hybrid Metal Printing
November 14, 2018
The Optomec LENS 860 Hybrid Controlled Atmosphere System can process reactive metals and combines additive and subtractive operations on the same machine.
Origin Introduces Open Additive Production
November 13, 2018
Origin comes out with new approach to additive manufacturing; company has new funding and partnership with BASF.
voxeljet Delivers VJET X Printers for Automaker
November 13, 2018
voxeljet's new large-format printer will be used to produce sand cores for auto engine components
Latest News
Editor's Pick: Make Managing Complexity Less Complex
Labyrinthine design processes and simulation data management can render informed decision-making tough going. This...
Dassault Systèmes U.S. Foundation Grant Supports STEM Certification of Veterans
STEM programs provides hands-on training on state-of-the-art equipment.
Trend Micro Research Uncovers Lack of IoT Security Awareness
Only 14% of respondents say they have complete organizational awareness of IoT threats; 37% claimed they...
Keysight Technologies Enables ON Semiconductor to Deliver a Design Solution for Power Devices
Keysight's Power Electronics Design Bundle is built for power electronics engineers, delivering a...
All posts