Top Story
5G Concerns and Opportunities at IoT World 2019
May 15, 2019
Anxieties and opportunities around 5G at IoT World 2019, One-Click VR from Luxion KeyShot, ASSESS Congress set for October
Siemens Introduces Validation Program to Accelerate Autonomous Vehicle Development
May 17, 2019
Siemens' PAVE360 provides a comprehensive environment for multi-supplier collaboration across the automotive ecosystem for the development of next-generation automotive chips, according to the company.
University of Waterloo Research Team Uses Maple, MapleSim to Support Autonomous Vehicle Development
May 17, 2019
The Motion Research Group at the University of Waterloo's Centre for Automotive Research (WatCAR) has been contributing to the body of research around autonomous vehicles by working on a project related to self-driving vehicles.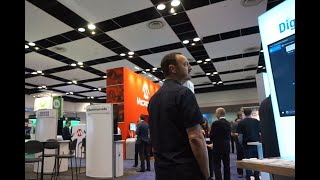 5G Concerns and Opportunities at IoT World 2019
May 15, 2019
Anxieties and opportunities around 5G at IoT World 2019, One-Click VR from Luxion KeyShot, ASSESS Congress set for October
FEATool Multiphysics MATLAB FEA Toolbox 1.10 Available
May 14, 2019
New update features an updated and fully integrated graphical user interface with built-in and interactive step-by-step multiphysics simulation examples.
RFS and ANSYS Lay Foundation for 5G-Ready Antennas
May 14, 2019
Antenna company standardizes on ANSYS simulation solutions, slashes simulation time from 4 days to 1 hour.
Hexagon Hosts the MSC Software Global User's Conference at HxGN LIVE
May 3, 2019
Conference program features MSC Software's engineering and simulation solutions.
Simulation Transition: Meshing Nuts and Bolts
May 1, 2019
It's essential to understand the fundamentals of how to adjust a mesh to obtain accurate and reliable results.
Virtual Testing Software Made for Advanced Materials 
May 1, 2019
MultiMechanics MultiMech 19.0 offers increased performance of multiscale composite simulation.
Sponsored Content
Editor's Pick: Faster Composites Simulation Improves Predicting Carbon Fiber Performance
May 1, 2019
MultiMechanics MultiMech 19.0 composite simulation software specializes in finite element analysis of carbon fiber and other composites.
Sponsored Content
Order Up: CFD Analysis to Go
April 30, 2019
COMSOL just took another step to make simulation accessibility even easier for more people.
COMSOL Debuts COMSOL Client for Android
April 26, 2019
New release enables engineers and students to run simulation applications from an Android device.
Sponsored Content
Editor's Pick: Multi-domain Systems Analysis Just Got Easier
April 24, 2019
Siemens PLM Software updates Simcenter Amesim with new features in four broad categories.
GE Leverages Surrogate Modeling to Slash Design Times
April 23, 2019
AI-driven approach could cut design times by half, evaluate millions of design variations in minutes
Aras Expands Partnership with MSC Software Corporation
April 23, 2019
Collaboration focuses on enhanced simulation process and data management.
ASSESS Initiative Says it Made Impression at COFES 2019
April 23, 2019
 ASSESS Initiative's presence included active participation in the program by ASSESS Initiative advocates including Joe Walsh, Andreas Vlahinos, Peter Thorne, Linda Lokay, and Karen Caswelch. 
Latest News
America's Cup Challenger American Magic Flies Across the Water with Stratasys 3D Printing
US team for world-renowned competitive sailing event taps into carbon fiber for end-use racing parts.
Artec 3D Launches Artec Micro Industrial Desktop 3D Scanner
Scanner promises quality control of small objects, reverse engineering design and more.
Indo-MIM and Desktop Metal Set Up Partnership to Boost Adoption of Metal 3D Printing
Large metal injection molding company plans to deploy metal 3D printing at scale with the Production System.
AMT on the Importance of Automated Post-Processing for Additive Manufacturing
Company to highlight how its BLAST process intersects material science, hardware engineering and process automation at RAPID + TCT 2019; introduce the...
All posts