Top Story
Simulations Slow?
March 8, 2019
More complex, higher-fidelity simulation workflows drive hardware upgrades.
ESTECO Releases Spring 2019 Update to VOLTA Simulation Process Automation Suite
March 13, 2019
New AI algorithms and charting templates extend the ability to bring simulation data into design optimization.
Editor's Pick: New Machine Learning and Data Intelligence Support for Engineering Simulation  
March 13, 2019
Autonomous optimization helps simplify complex engineering processes.
MSC CoSim Release Made to Advance CAE Technology
March 11, 2019
Software has been developed to provide a co-simulation interface for the direct coupling of different solvers/disciplines within a multiphysics framework.
Sponsored Content
ONR Quality Made – Robotic Laser Wire Additive Manufacturing System
March 11, 2019
Recent advances in modeling and simulation tools based on an Integrated Computational Materials Engineering (ICME) approach provide an opportunity to relate process parameters to microstructure to properties to performance.
Partner Content
Simulations Slow?
March 8, 2019
More complex, higher-fidelity simulation workflows drive hardware upgrades.
Rescale Sets Up Strategic Partnership with Siemens PLM Simcenter
March 6, 2019
Unlimited scalability supercharges Simcenter simulation.
Discover What's New in Simcenter STAR-CCM+2019.1
March 5, 2019
Simcenter STAR-CCM+ offers realistic multiphysics simulation, capturing the complete geometry of your product, and all of the physics, according to the company.
Making Autonomous Vehicles Smarter
March 1, 2019
Combining real-world info and simulated conditions to build a data set.
Parametric Design Optimization with CORTIME
March 1, 2019
Walk through a linear buckling optimization using CORTIME.
Use of CF-MESH+ and OpenFOAM Helps Solve Turbulent Flow Simulation Around DrivAer Vehicle
March 1, 2019
CF-MESH+ is a fully automated CFD meshing software solution that features capabilities for mesh generation in arbitrary complex geometries.
Altair Highlights Latest Technologies at Hannover Messe 2019
March 1, 2019
Showcase highlights to include a technology demonstrator for predictive maintenance and a digital twin integration platform.
Transition to Simulation: Linear and Nonlinear Buckling
March 1, 2019
Buckling describes where structural failure can occur when compressive loads are applied to a slender structure.
NAFEMS World Congress 2019 Preview
February 20, 2019
The international association for the engineering modeling, analysis and simulation community, hosts the NAFEMS World Congress June 17-20 in Quebec, Canada.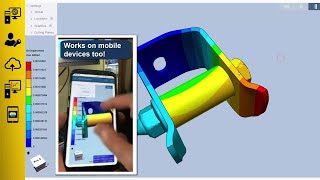 ANSYS Provides Path to Cloud HPC
February 20, 2019
ANSYS Cloud delivers on-demand cloud HPC access within the ANSYS portfolio to democratize simulation.
VELO3D Introduces Enhancements to Its Flow Software
February 19, 2019
Flow is specifically designed for Sapphire, VELO3D's laser fusion metal additive manufacturing system.
Latest News
AMUG Picks 2019 Scholarship Recipients
Dr. Wenchao Zhou and Victoria Sears to be honored at AMUG 2019.
XJet to Debut New NanoParticle Jetting Application at AMUG 2019
The company will offer live demonstrations and will join the conference program in a...
NUMECA Releases OMNIS 3.1
One new features, OMNIS/LB, is a particle-based Lattice-Boltzmann solver for complex and high-fidelity...
ZVerse and Carbon Set up Partnership Focused on Design for Digital Manufacturing 
The nuts and bolts: ZVerse will offer enhanced design support to Carbon production partners...
All posts