Top Story
DE News Roundup March 15, 2019: HoloLens 2, V-Ray Next for Rhino, GTC and COFES, more
March 15, 2019
Microsoft debut HoloLens 2 at MWC, Chaos launches V-Ray Next for Rhino, NVIDIA gets ready for GTC, and more
Chaos Group Releases V-Ray Next for Rhino
March 18, 2019
Photoreal renderer tools have expanded the core capabilities of Rhino and Grasshopper, linking photorealistic rendering, scene intelligence and asset management into a workflow, according to Chaos Group.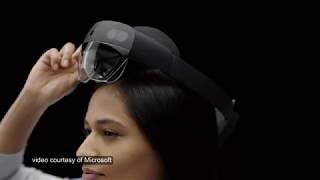 DE News Roundup March 15, 2019: HoloLens 2, V-Ray Next for Rhino, GTC and COFES, more
March 15, 2019
Microsoft debut HoloLens 2 at MWC, Chaos launches V-Ray Next for Rhino, NVIDIA gets ready for GTC, and more
Analyst JPR Releases Report on Raytraced Rendering
March 5, 2019
JPR's report The Global Market for Ray Tracing Software covers technology's evolution and applications
NVIDIA Quadro RTX 8000 Now Available from PNY Technologies
February 25, 2019
KISTERS 3DViewStation V2019 Now Available
February 15, 2019
A key KISTERS 3DViewStation V2019 enhancement is an increase in the rendering speed of ultra large assemblies.
VIRES VTD 2.2 Expands Autonomous Driving Simulation
February 8, 2019
Revamped visualization and advanced sensors, new car models, new open API, user experience enhancements can be discovered in latest release.
Sponsored Content
It Takes a Beast to Handle Beastly Data Loads
January 24, 2019
Simulation, rendering, artificial intelligence and virtual reality jobs demand way more than your everyday workstation.
Hackrod is Using Lightworks' SLIPSTREAM to Design its Concept Speedster
December 14, 2018
Hackrod is using virtual reality prior to manufacturing the car using 3D printing processes.
BOXX Introduces Next-Generation S-Class Workstations with 9th-Gen Intel Processors
December 10, 2018
Product line includes new 3D design, CAD and motion media workstations overclocked to 5.1GHz and designed to support more heavily threaded applications.
Sponsored Content
Immerse Yourself in Realistic Design
December 10, 2018
In this issue: Immerse Yourself in Realistic Design; Designing Prosthesis: The Anti-Robot, and a BOXX APEXX S3 Review: Overclocked and Under Budget.
Foundry Launches Katana 3.1 with new Updates
December 2, 2018
Ongoing development of Katana offers targeted updates designed to boost artists' speed and efficiency.
Podcast: Digital Engineering News Roundup for Oct. 12, 2018
October 12, 2018
Listen to a brief roundup of this week's top digital engineering news featuring Siemens closing its acquisition of Mendix and its plans to acquire Iray renderer Lightworks; Luxion's release of KeyShot 8, Onshape's preview of an AR CAD-editing app at Leap...
Material Matters in Rendering
October 12, 2018
3D printing applications push rendering developers to match new material properties.
CADWorx Design Review Professional Released
October 8, 2018
CADWorx and Analysis Solutions release solution for model visualization and publishing.
Siemens Set to Acquire Lightworks, Aims to Bolster Visualization and VR support
September 28, 2018
Latest News
AMUG Picks 2019 Scholarship Recipients
Dr. Wenchao Zhou and Victoria Sears to be honored at AMUG 2019.
XJet to Debut New NanoParticle Jetting Application at AMUG 2019
The company will offer live demonstrations and will join the conference program in a...
NUMECA Releases OMNIS 3.1
One new features, OMNIS/LB, is a particle-based Lattice-Boltzmann solver for complex and high-fidelity...
ZVerse and Carbon Set up Partnership Focused on Design for Digital Manufacturing 
The nuts and bolts: ZVerse will offer enhanced design support to Carbon production partners...
All posts