Top Story
Weaving Materials into the Design Workflow
January 1, 2019
Advances in materials science offer promises of part quality improvement at the microstructure level.
AMFG Advances End-to-End AM Workflow
January 14, 2019
AMFG is partnering with LEO Lane to create automated, secure workflows for production-grade additive manufacturing.
Ultimaker Reveals new Cura Interface
January 14, 2019
Ultimaker Cura's new interface features what is said to be a more logical workflow, based on user research.
Navy Dips its Toe into 3D Printing
January 10, 2019
The U.S. Navy hopes to reduce production lead times and part production costs using additive manufacturing.
Additec Debuts Desktop μPrinter
January 3, 2019
Desktop Laser Metal Deposition 3D printer features closed-loop process control.
Granta MI Version 12 Now on Shelves
January 3, 2019
Software contains new features for additive manufacturing, compliance, product lifecycle management support and more.
Weaving Materials into the Design Workflow
January 1, 2019
Advances in materials science offer promises of part quality improvement at the microstructure level.
Virtual Printing Enables Next Phase of AM Adoption
January 1, 2019
Simulating 3D prints will make it easier to create high-quality end-use parts using additive manufacturing.
To 3D Print, or Not to 3D Print?
January 1, 2019
Consider the application, volume requirements and operational efficiencies.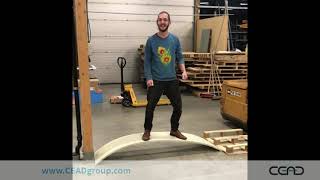 CEAD Sets Sail With Large-scale Continuous Fiber Printing
December 26, 2018
CEAD Group's CFAM Prime 3D printer brings continuous fiber printing for composite applications to an industrial scale.
Optomec Acquires Huffman
December 20, 2018
This acquisition is said to deepen Optomec's penetration in production applications for aerospace and energy markets.
America Makes Announces Awardees of Directed Project Opportunities on Acceleration of Large-Scale AM
December 19, 2018
Projects to develop an open source, multi-laser manufacturing research platform and more.
AMUG Innovators Award Goes to Professor Gordon Levy
December 18, 2018
The award is given to those who have cultivated ideas that in turn have advanced the additive manufacturing industry, according to AMUG.
Renishaw Extends ParaMatters Collaboration
December 18, 2018
The partnership now extends to optimized lightweighting and automation of metal additive manufacturing.
DE Podcast: Are Desktop 3D Printers Safe to Use?
December 13, 2018
Georgia Tech and UL Chemical Safety publish two-year study on 3D printers, raises concerns for potentially hazardous levels of ultrafine particles, and numerous volatile organic compounds associated with machine operation.
Sponsored Content
Editor's Pick: Get Metal 3D Parts Right the First Time
December 12, 2018
The ESI Group's new solution suite could help process and manufacturing engineering departments as well as 3D printing bureaus shorten time frames and lower costs.
Latest News
Editor's Pick: Machine Learning Boosts Modeling Methods
Automating your simulation workflows can help speed optimal design discovery.
Process Integration and Design Optimization Platform Updated
Optimus Rev. 2018.1 introduces modeling methods augmented with machine learning
Hensoldt Purchases Nano Dimension DragonFly Pro System
Early DragonFly Adopter Hensoldt uses Nano Dimension's precision additive manufacturing platform for printed...
Soler & Palau selects CORTIME for Design Exploration in SolidWorks
Soler & Palau is immersed in the development of efficient ventilation products and systems into...
All posts