Top Story
Behind the Scenes at Materialise in the Midwest
May 23, 2019
Factory tour at Michigan-based 3D printing production facility provides a peek at the company's innovations in the medical sector.
Marshall Aerospace and Defence Works with Stratasys Technology to 3D Print Final Flight Parts for Aircraft Program
June 11, 2019
The company also builds ground-running equipment on the Stratasys Fortus 450mc 3D printer in tough Nylon 12 material at lower cost than aluminum production.
Simulation Transition: Materials
June 1, 2019
It is fundamentally essential to understand how your simulation software incorporates the mechanical properties of materials.
SABIC Launches New Breakaway Support Filament
May 31, 2019
Filament designed to boost productivity for part manufacturers, company says.
Evonik and Evolve Additive Solutions to Jointly Develop 3D Printing Materials for STEP Process
May 29, 2019
Companies to enhance material development for STEP to offer a wider range of thermoplastic material for production of additive manufacturing applications.
ExOne Announces Kennametal as Inaugural Beta Customer for New X1 25PRO Production Machine
May 23, 2019
ExOne also announced a new material partnership program, as well as more collaboration with Sandvik Additive Manufacturing.
Behind the Scenes at Materialise in the Midwest
May 23, 2019
Factory tour at Michigan-based 3D printing production facility provides a peek at the company's innovations in the medical sector.
DSM and Adaptive3D Partner to Commercialize Tough 3D Printing Photopolymer
May 23, 2019
DSM to help produce, distribute and sell Adpative3D's Soft ToughRubber.
Stratasys and Solvay Partner to Bring New 3D Printing Materials to Market and Expand Adoption in Manufacturing
May 23, 2019
Stratasys launches authorized materials partner program; Solvay selected as first materials provider to develop Stratasys-approved Fused Deposition Modeling (FDM) filament for F900 3D printer.
3D Systems Announces General Availability of Figure 4 Modular Digital Light Printing (DLP) Production Solution
May 23, 2019
Company also announces five new DLP and selective laser sintering (SLS) production materials.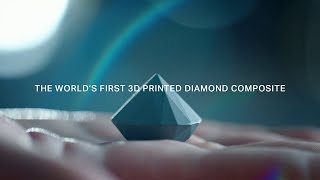 Sandvik Creates 3D-Printed Diamond Composite
May 23, 2019
Stereolithography used to create parts in complex shapes from composite diamond slurry.
MakerBot Expands METHOD 3D Printer Materials with Durable and Chemical-Resistant PETG
May 23, 2019
The first material for the MakerBot METHOD 3D printer in the Specialty Material line, PETG promises superior part durability and chemical resistance.
America's Cup Challenger American Magic Flies Across the Water with Stratasys 3D Printing
May 21, 2019
US team for world-renowned competitive sailing event taps into carbon fiber for end-use racing parts.
Impossible Objects Unveils Next-Generation 3D Printer, Partners with BASF to Bring Composite to 3D Printing
May 21, 2019
The CBAM-2 3D printing system delivers complex parts at production speeds and volumes, while partnership with BASF makes strong, heat-tolerant PA6-carbon fiber composite parts printable at scale.
BigRep Introduces Large‐Format 3D Printer for Industrial Applications
May 20, 2019
The new and improved BigRep STUDIO G2 provides speed and quality in large‐format with engineering‐grade materials.
Arrow Schmidt Peterson Motorsports Uses Stratasys' Fortus 450mc and F370 3D Printers
May 20, 2019
IndyCar team gains capitalizes on Fused Deposition Modeling technology from Stratasys for prototypes and production-grade racing car parts.
Latest News
MathWorks Enhances Academic Research with New Scaling and Collaboration Opportunities in MATLAB
Now all researchers and students at academic institutions with a MathWorks Campus-Wide License that includes MATLAB Parallel Server have unlimited...
Aras Boosts its Low-Code Platform with Enhanced Supplier Collaboration
The updates in this platform are designed to enhance workforce productivity.
Drivetrain Simulation Vendor Releases New Integrated Suite
New suite blends the company's separate products for drivetrain and related electromechanical drive systems.
Editor's Pick: Related Tools for Drivetrain Simulation Receive a Collaboration Update
Romax Technology introduces integrated suite Romax Nexus. 
All posts