Top Story
Automotive Manufacturing Gone Virtual
June 16, 2023
AR, VR, digital twins and 3D prototyping all play roles in the future of the automotive market.
Unveiling EON IntelliScan: 360-Degree Interactive Experiences
October 13, 2023
Technology blends AI with 360-degree capture to transform everyday spaces into immersive learning environments.
Holo-Light Streamlines Workflows with CAD Exchanger
October 10, 2023
Holo-light, invested in the XR market, has integrated CAD Exchanger into its platform to provide CAD file reading for XR applications.
AR Is Engine Driving Custom Configurator Builds of Legendary Car
July 25, 2023
The Little Car Company, manufacturers of limited-edition hand built electric scaled cars, has launched its new configurator for an old Ferrari.
Utilizing Extended Reality & IIoT in Manufacturing
July 12, 2023
The manufacturing industry is poised to leap forward with the advent of extended reality technologies and the integration of the IIoT. Both offer the potential to increase efficiency, improve employee training, and better track materials.
Automotive Manufacturing Gone Virtual
June 16, 2023
AR, VR, digital twins and 3D prototyping all play roles in the future of the automotive market.
PTC Boosts Vuforia's Visual Inspection Capability With AI
May 15, 2023
Augmented reality solution can now support visual inspection on the shop floor.
Interoperability Issues Fade as Cloud-Hosted Collaboration Shines
March 24, 2023
Formats and conversions become irrelevant in the new workflow.
Designing Robotics
March 6, 2023
A closer look at bringing complex robotic technology into our modern world.
Editor's Pick: Nextech AR Toggle3D Update 
February 15, 2023
This online 3D configurator is easy to use by people with no prior CAD experience, according to the company.
Nextech AR Achieves Generative AI Breakthrough
February 13, 2023
The company can now recreate high-quality 4K textures at scale from 250 px x 250px of digital swatches in seconds versus hours of manual labor, company says.
CADSoftTools Releases ABViewer v15.1
February 3, 2023
CADSoftTools announces ABViewer 15.1 with new features and enhancements.
Nextech Unveils Big Tech Advancements
January 31, 2023
Toggle3D enables the creation, design, configuration and deployment of 3D models at scale, using CAD files.
XR Brings Greater Clarity to Automotive Design
January 19, 2023
While the technology is still evolving, it also offers a lot of possibilities to automakers.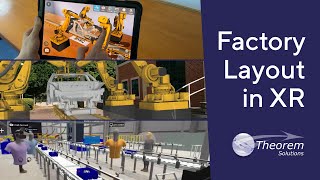 Bridge the Gap Between Digital and Physical by Using XR for Planning and Layout
December 13, 2022
Using Extended Reality (XR) is helping to bridge the gap between the digital and physical when creating and planning factory and plant layouts.
Nextech AR's Toggle-3D Disrupting CAD-3D Model Market
November 10, 2022
Toggle3D is introducing physically-based rendering material creation flows that reduces the material creation time from days to minutes, company says.
Latest News
CIMdata Supports the PLM Green Global Alliance
CIMdata's Sustainability and Green Energy Practice Director Mark Reisig will moderate the Alliance's coverage of PLM and Green...
SprutCAM X Updates with Collision Avoidance
Collision Avoidance option now features an updated calculation algorithm.
Introducing Autodesk Fusion Industry Cloud
Built on the Autodesk Design & Make Platform, Fusion industry cloud is designed to transform product design and manufacturing by unifying...
ESTECO, Optimad Partner to Offer Embedded Explainable AI
This venture will bring machine learning and explainable artificial intelligence capabilities into ESTECO software solutions, the company reports.
What Will Digital Twins Look Like in 5 Years?
A clear definition and view of the technology is only now taking shape.
Flow Science Releases FLOW-3D POST 20
FLOW-3D POST 2023R2 introduces support for a new results file format that enables faster postprocessing, the company reports.
All posts