Top Story
V-Shaped Plane Prototype Flight Planned by KLM and University Researchers
Proposed boomerang-shaped airplane design created with ParaPy, SU2, MATLAB, ANSYS Fluent and HPC could use 20% less fuel than the Airbus A350.
WHOI and NASA/JPL are designing an autonomous sea drone capable of exploring the hadal zone, up to almost 7 miles below sea level.
Resources
The Quality Leader's New Product Introduction Playbook
The market's visibility to early quality issues has never been greater and will continue to accelerate. The extensive awareness creates opportunities for the prepared enterprise, and substantial risks for those slow to react.
Navajo Technical University Chooses Optomec System for Metal AM Training Center
September 12, 2019
NTU purchased the directed energy deposition machine with a National Science Foundation grant for use in its new Center for Advanced Manufacturing.
Kaelus Teams Up With ECSite to Offer Enhanced Support for Test Equipment
September 5, 2019
ECSite software solution provides test automation, data management and reporting of 4G/5G telecom infrastructure applications.
RIGOL Announces New 2 GHz MSO8000 Series Digital Oscilloscope
August 27, 2019
The MSO8000 is built around RIGOL's UltraVision II architecture and its Phoenix chip-set.
Hexagon Releases PC-DMIS 2019 R2
August 16, 2019
PC-DMIS 2019 R2 delivers new capabilities, enhanced ease of use and user experience improvements, company says.
Exact Metrology Offers the Artec Micro 3D Scanner
August 13, 2019
New scanner is Artec 3D's most accurate 3D scanner to date, company says.
SCALEXIO AutoBox Prototyping System Now on Market
July 26, 2019
In-vehicle real-time system has high computing power and comprehensive bus support.
Hexagon Unveils RS6 Laser Scanner
July 23, 2019
The RS6 Laser Scanner is the new flagship 3D scanner for the Absolute Arm 7-Axis, according to Hexagon.
API Strengthens Metrology Services With Acquisition of Exact Laser Measurements
July 18, 2019
API further extends its reach into the automotive sector.
Starrett Introduces New Generation Benchtop Horizontal Digital Video Comparators
July 15, 2019
Video measurement systems offer better speed and improved illumination.
Digital Metrology Releases Multi-Band Surface Texture Analysis Software
July 12, 2019
Bandify and Bandify3D instantly separate surface texture into wavelength bands and display the data in an intuitive, single-screen interface.
Coordinate Metrology Society Finalizes CMSC 2019 Program with a Metrology Career Workshop
July 8, 2019
The conference, slated for July 22-26, features a slate of original technical papers and presentations delivered by industry experts from around the globe.
V-Shaped Plane Prototype Flight Planned by KLM and University Researchers
June 27, 2019
Proposed boomerang-shaped airplane design created with ParaPy, SU2, MATLAB, ANSYS Fluent and HPC could use 20% less fuel than the Airbus A350.
HxGN Live 2019: Forging a Path in the Data Forest
June 26, 2019
At its annual conference HxGN Live, Hexagon executives propose finding intelligence in manufacturing data as the way to gain competitive advantage and build responsible, sustainable production processes.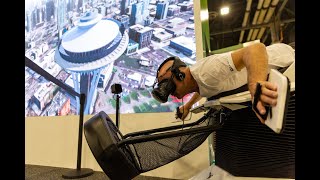 HxGN 2019 where AR/VR meets Metrology; Epson Releases Augmented Reality Remote Assist
June 21, 2019
Hexagon's HxGN highlights intersection of AR/VR and metrology; Epson launches AR-based remote assistance app.
RIGOL Technologies, GradientOne Announce Partnership Streamlining Test Automation
June 13, 2019
The integration of many of RIGOL's UltraVision and UltraVision II oscilloscopes with GradientOne's web-based platform allows engineers to simply and quickly set up tests, acquire/store the test data, analyze the results, and more.
Latest News
Clouds Without Silos are the New Frontier for the Open Design Alliance
Open Design Alliance targets CAD interoperability in the cloud with new SDK, development platform, and other tools.
Elysium Enhances Functionality to Model Piping from Point Clouds into Autodesk Revit
New capability for modeling directly from laser scans to Autodesk Revit available in InfiPoints version 6.0.
ANSYS 2019 R3 Expands Autonomous Vehicles Solution
Latest release delivers innovations in sensors, virtual environments and AI simulation.
University of Tennessee to Get Supercomputer Under Landmark Award with IBM
The Min H. Kao Department of Electrical Engineering and Computer Science will be home to the installation, allowing it to...
All posts