Top Story
Ocean Explorer Targets Terrestrial and Extraterrestrial Waters
WHOI and NASA/JPL are designing an autonomous sea drone capable of exploring the hadal zone, up to almost 7 miles below sea level.
Meet the challenge of designing sensitive electronics for harsh environments.
Resources
The Quality Leader's New Product Introduction Playbook
The market's visibility to early quality issues has never been greater and will continue to accelerate. The extensive awareness creates opportunities for the prepared enterprise, and substantial risks for those slow to react.
Featured Companies
Artec 3D Launches Artec Micro Industrial Desktop 3D Scanner
May 21, 2019
Scanner promises quality control of small objects, reverse engineering design and more.
Former Astronaut Dr. Bonnie Dunbar to Headline 35th Coordinate Metrology Society Conference
May 20, 2019
Vision Engineering Debuts 3D Digital Display Technology
May 14, 2019
Visual inspection company launches deep reality viewer at EASTEC, MA.
Digital Metrology Marks 20 Years of Metrology Successes
May 7, 2019
In recent years, Digital Metrology has collaborated with instrument manufacturers around the world to develop measuring systems and to embed software in custom and off-the-shelf metrology systems.
Hexagon's Manufacturing Intelligence Division Breaks Ground on New Center in Detroit Area
May 7, 2019
Hexagon's Manufacturing Intelligence division is constructing a new expansion project on a site in Novi, MI, slated for completion in the fall of 2019.
Artec 3D Launches Artec Micro Professional Industrial Desktop 3D Scanner
May 7, 2019
Scanner offers quality control of small objects, reverse engineering design and more, a solution for the metrology market, company says.
Verisurf 2019 Software Introduced
May 3, 2019
The software offers enhanced CMM programming, productivity features and universal compatibility.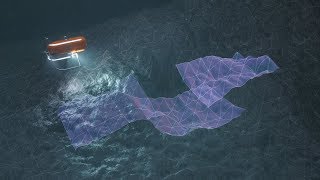 Ocean Explorer Targets Terrestrial and Extraterrestrial Waters
May 1, 2019
WHOI and NASA/JPL are designing an autonomous sea drone capable of exploring the hadal zone, up to almost 7 miles below sea level.
TE Connectivity Announces Definitive Agreement to Acquire the Kissling Group 
April 30, 2019
The deal helps expand TE's portfolio for hybrid electric commercial vehicle solutions, TE Connectivity reports.
LIFT and Center for Automotive Research to Optimize Joining Methods for Auto Industry
April 26, 2019
Study will evaluate and test various materials and  joining technologies and make recommendations.
Keysight Technologies' V2X Test Solution Earns OmniAir Certification
April 18, 2019
Certification ensures vehicular communication devices and associated software pass global industry requirements for interoperability and compliance.
Siemens Buys NVH Business from Saab Medav
March 22, 2019
Deal boosts Siemens' Simcenter portfolio with a range of configurable solutions for end-of-line noise, vibration, and harshness (NVH) quality testing.
VeriSurf Debuts Latest Master3DGage 3D Inspection and Reverse Engineering Solution
March 18, 2019
The complete hardware/software solution delivers automated "in-process" inspection to the shop floor.
dSPACE TargetLink 4.4 Debuts New Functionalities
March 15, 2019
In this new release, the Production Code Generator supports MATLAB Code in Simulink Models.
Matereality Adds Lab Information Management to its Material Data Management Software
March 14, 2019
Release Is accompanied by a new bolt-on for companies to manage and run their test labs.
Latest News
RAPID+TCT 2019 Drives Additive Manufacturing to Next Level in Motor City
Thousands of attendees delve into 3D printing, the future of manufacturing, digital twins, data management and so much more.
Jabil Inks Additive Manufacturing Agreement to Supply Parts to Renault F1 Team
On-demand delivery of racecar parts for Renault F1 Team driven by expansion at certified Jabil 3D printing facilities worldwide.
ExOne Announces Kennametal as Inaugural Beta Customer for New X1 25PRO Production Machine
ExOne also announced a new material partnership program, as well as more collaboration with Sandvik Additive Manufacturing.
Behind the Scenes at Materialise in the Midwest
Factory tour at Michigan-based 3D printing production facility provides a peek at the company's innovations in the medical sector.
All posts