Top Story
XR Brings Greater Clarity to Automotive Design
January 19, 2023
While the technology is still evolving, it also offers a lot of possibilities to automakers. 
VR i4 MEETING Platform from CAD Schroer Updated
February 17, 2023
i4 MEETING is a platform for virtual meetings and offers a more realistic and productive VR experience, CAD Schroer says.
XR Brings Greater Clarity to Automotive Design
January 19, 2023
While the technology is still evolving, it also offers a lot of possibilities to automakers.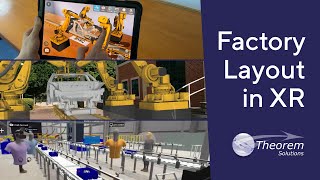 Bridge the Gap Between Digital and Physical by Using XR for Planning and Layout
December 13, 2022
Using Extended Reality (XR) is helping to bridge the gap between the digital and physical when creating and planning factory and plant layouts.
AR, MR or VR: Which Technology is Right for your Engineering Use Case?
July 26, 2022
Augmented, Mixed or Virtual Reality? This is a key question. You will need to understand the features and benefits of each technology type before looking to build and implement your XR strategy.
Bricsys Teams Up With VREX to Accelerate Virtual Reality Workflow
July 12, 2022
Companies on a mission to boost to VR workflow.
Varjo's Urho Konttori on Streaming VR
May 12, 2022
Varjo founder and CEO Urho Konttori explains the implications of streaming VR content delivered from the cloud
A Tale of Two Laptops: HP ZBook Fury 15 G8 mobile workstation
March 31, 2022
DE looks at two configurations of HP's top-of-the-line 15-in. mobile workstation.
Audi Dips Into Automotive VR
March 22, 2022
Beginning in the summer of 2022, Audi aims to become one of the first manufacturers to convert the automobile into an experience platform for virtual reality, company says.
The Future of Design
December 31, 2021
DE readers provide a glimpse of their technology usage in our annual survey.
Proceed With Optimism
December 21, 2021
Our readers and the technology providers in the engineering market have continued building on the opportunities that emerged in the past year to explore new ways to collaborate.
Gravity Sketch Makes 3D Remote Collaboration Possible
December 1, 2021
Gravity Sketch launches LandingPad Collab, enabling designers and their teams to collaborate at scale in 3D from the start of the creative process, from anywhere in the world.
Enter the Holodeck: Designing in a Virtual World
November 15, 2021
The gaming industry has long been big business, but thanks to virtual reality technology, it is now taking us where no one has gone before. Are product design and manufacturing the next frontier?
Special Technology Focus: Designing with Augmented/Virtual Reality
October 29, 2021
Read about the latest developments in AR/VR-related design techniques and technologies.
Headset-Optional AR/VR
October 12, 2021
Mobile AR/VR apps tackle lighter workloads and offer social interaction.
Our New Reality: The Rise of AR and VR
October 1, 2021
AR and VR present many opportunities and challenges to help users engage and transform processes and products at the center of today's engineering climate.
Latest News
Podcast: Revolution in Simulation
DE chats with Malcolm Panthaki, co-founder of Revolution in Simulation, about their mission to expand the reach of simulation technology.
Partnership Accelerates Additive Manufacturing Material Qualification
Dyndrite, MIMO Technik and ASTRO Mechanical Testing team to qualify 3D print materials for aerospace and defense.
MATLAB Test Enables Test Management at Scale
MATLAB and Simulink Release 2023a Includes new and updated blocksets and toolboxes that simplify model-based design for the aerospace and...
Additive Manufacturing Industry Grew 23 Percent in 2022
SmarTech estimates AM market reached $13.5 billion in 2022, and will grow to $25 billion in 2025.
All posts