Top Story
PENSA's Path to Prolific Prototypes Starts With the MakerBot METHOD
June 24, 2019
The industrial-grade desktop 3D printer is used by the design and engineering shop to test new ideas early and often and helps accelerate the design cycle.
SME, Stratasys Announce Winners of FANUC-Inspired SkillsUSA Additive Manufacturing Competition
July 23, 2019
Six teams—three high school and three college teams—received top honors for the designs they created during the three-day contest.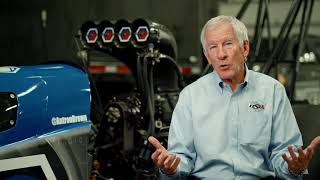 Racing Group Sprints Ahead with Stratasys 3D Printing
July 12, 2019
See how Stratasys helps Don Schumacher Racing eliminate the time-consuming, trial-and-error process involved with machining out new components.
Edwards Air Force Base 3D Prints Aircraft Parts
July 2, 2019
The base is using an industrial plastic printer to produce and fit parts to save time, costs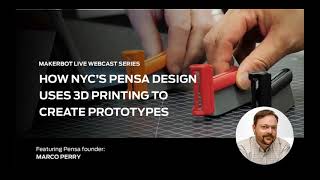 PENSA's Path to Prolific Prototypes Starts With the MakerBot METHOD
June 24, 2019
The industrial-grade desktop 3D printer is used by the design and engineering shop to test new ideas early and often and helps accelerate the design cycle.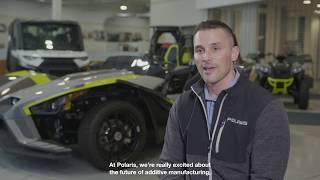 Stratasys Powers Innovation at Polaris
June 13, 2019
Marshall Aerospace and Defence Works with Stratasys Technology to 3D Print Final Flight Parts for Aircraft Program
June 11, 2019
The company also builds ground-running equipment on the Stratasys Fortus 450mc 3D printer in tough Nylon 12 material at lower cost than aluminum production.
Behind the Scenes at Materialise in the Midwest
May 23, 2019
Factory tour at Michigan-based 3D printing production facility provides a peek at the company's innovations in the medical sector.
Materialise Announces New Version Streamics 8 and Materialise Simulation 2.0; Collaboration with HP, Nikon and Essentium
May 23, 2019
The partnerships, announced during the 2019 RAPID+TCT Conference in Detroit, will support the adoption of 3D printing by industrial manufacturers.
Stratasys and Solvay Partner to Bring New 3D Printing Materials to Market and Expand Adoption in Manufacturing
May 23, 2019
Stratasys launches authorized materials partner program; Solvay selected as first materials provider to develop Stratasys-approved Fused Deposition Modeling (FDM) filament for F900 3D printer.
MakerBot Expands METHOD 3D Printer Materials with Durable and Chemical-Resistant PETG
May 23, 2019
The first material for the MakerBot METHOD 3D printer in the Specialty Material line, PETG promises superior part durability and chemical resistance.
Arrow Schmidt Peterson Motorsports Uses Stratasys' Fortus 450mc and F370 3D Printers
May 20, 2019
IndyCar team gains capitalizes on Fused Deposition Modeling technology from Stratasys for prototypes and production-grade racing car parts.
Editor's Picks: April 11-17, 2019
April 19, 2019
One of the picks will be chosen as DE's Editor's Pick of the Week.
Stratasys Direct Manufacturing Expands Additive Metals Capacity with VELO3D's Sapphire Printer
April 16, 2019
The Sapphire laser fusion metal additive manufacturing system allows for printing of complex part geometries with in-situ metrology, closed-loop control, and low-to-no support structures.
Stratasys Inks Agreement with Pantone
April 12, 2019
Under terms of the agreement, Stratasys now becomes a 3D printing solutions provider with technology officially designated as PANTONE Validated.
Additive Manufacturing Users Gather to Address Challenges, Advance Industry
April 9, 2019
Materials, software and workflow challenges led the discussions at the Additive Manufacturing Users Group (AMUG) 2019 conference in Chicago last week.
Latest News
Chaos Group previews Project Lavina, SimScale releases radiation simulator, Onshape recognized by World Economic Forum
In this episode of DE News Roundup, Chaos Group previews Project Lavina for real time ray tracing, SimScale releases radiation...
AMD Radeon Pro Software for Enterprise 19.Q3 Is Optimized for Professional Applications
The latest driver also continues to prove the value of updating professional drivers, with Day Zero certifications to help ensure...
Moldex3D Partners with Wittmann Battenfeld on LSR Injection Molding and Smart Manufacturing
The memorandum of understanding is aimed at bringing together both parties' extensive knowledge and technical expertise to advance the role...
Siemens Debuts More Tire Modeling Capabilities in Real-Time Environments
The Simcenter Tyre team releases MF-Tyre/MF-Swift 2019.1 with more possibilities to test with MSC ADAMS.
All posts