Top Story
3D Printing, CT Scanning for Supply Chain Resilience
May 17, 2022
Desktop Metal and Lumafield create all-in-one scanning and additive manufacturing solution to copy and produce parts anywhere.
3D Printing, CT Scanning for Supply Chain Resilience
May 17, 2022
Desktop Metal and Lumafield create all-in-one scanning and additive manufacturing solution to copy and produce parts anywhere.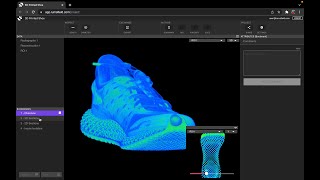 CT Scan for Engineering Parts
May 9, 2022
Lumafield develops CT scanner for engineering diagnosis
Exact Metrology Debuts Next Generation of Artec Micro
April 11, 2022
This is a high-precision industrial desktop 3D scanner, designed to deliver scans in one click, the company reports.
Editor's Pick: New reverse engineering software
September 15, 2021
Hexagon Manufacturing Intelligence REcreate turns 3D data from various sources into a model made for further design work or 3D printing. 
Hexagon's Reverse Engineering Solution to be Shown at RAPID + TCT 2021
September 7, 2021
New REcreate redefines reverse engineering with a flexible design approach, company says.
Introducing the New Reverse Engineering
September 1, 2021
Digitalization has created a revolution in reverse engineering. How can engineers best use these new capabilities?
GE Gets Air Force Airworthiness OK for Metal 3D-printed Engine Part
June 14, 2021
This F110 component is the first engine component designed for and produced by metal additive manufacturing to be qualified by any US Department of Defense entity.
Taking Care of Business
April 30, 2021
Chart the next frontier in materials and engineering design with confidence.
A Head for Reverse Engineering
July 14, 2020
Eco-friendly plant holder designer teams with Exact Metrology on reverse engineering project.
Volume Graphics CT Software Includes Scan-to-CAD Reverse Engineering Capabilities
July 10, 2020
New capabilities support digital twin creation and simulation validation.
3D Systems Unveils Enhancements to Reverse Engineering Software
May 19, 2020
Unroll/reroll function in Geomagic Design X enables a new modeling workflow for complex revolved parts resulting in a 94% efficiency improvement, company says.
Smart Scanning
April 15, 2020
For those versed in reverse engineering, here's how to stay afloat in the sea of available hardware and software solutions.
PolyWorks Software Joins the SMARTTECH3D Offer
January 2, 2020
It is a universal metrology software platform that is designed for processing and analyzing three-dimensional data.
ParaMatters Launches CogniCAD 3.0 at Formnext 2019
November 14, 2019
ParaMatters expands Its generative design and manufacturing cloud solutions with new release.
Creaform Launches Handyscan Aeropack for Aerospace Industry
November 14, 2019
Solution suite designed for needs of aircraft manufacturers and maintenance, repair and operations companies.
Latest News
PTC and Partner PDSVISION Collaborate with Electrolux
Collaboration will focus on digital transformation.
Nexa3D to Launch XiP Desktop 3D Printer
Customer applications including from PepsiCo and Wilson Sporting Goods were to be highlighted.
Optomec Delivers 600th Industrial Printer
Technology and products fuel growth in 3D metal and electronics production.
Editor's Pick: Simulate advanced connectivity 
Altair Simulation serves manufacturing and AEC.
All posts