Top Story
PTC Steers Portfolio Towards Next-Era Digital Transformation
May 17, 2023
SaaS version of Creo and sustainability partnerships headline announcements at PTC LiveWorx 2023.
PTC Steers Portfolio Towards Next-Era Digital Transformation
May 17, 2023
SaaS version of Creo and sustainability partnerships headline announcements at PTC LiveWorx 2023.
PTC Tools Help Spark Nuclear Fusion Breakthrough
December 21, 2022
Creo and Windchill were among the key 3D modeling tools used in the development of the National Ignition Facility.
PTC and Ansys Link CAD, Simulation
November 23, 2020
New Creo Ansys Simulation brings simulation to the modeling environment.
PTC Embraces New Digital Reality
June 9, 2020
In a virtual LiveWorx keynote, CEO outlines how PTC's product suite has enabled design and manufacturing productivity during a pandemic.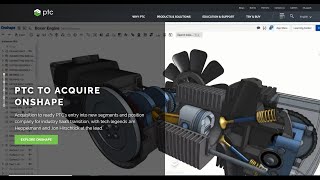 PTC Buys Onshape, xRS Brings Out Use of AR-VR in Training, More
October 31, 2019
In this episode of DE Video News Roundup, CAD and PLM vendor PTC buys cloud CAD Onshape for $470 million, xRS Conference brings out ARVR use in training, CAASE conference now open for paper proposals, DE seeks holiday-themed simulation projects to...
Partner Content
Napkin Drawings with a Digital Touch
October 10, 2019
Sophisticated sketching programs let you capture simple concepts, create masterpieces.
What's Old is New
June 12, 2019
CAD and PLM are playing a starring role in PTC's vision for the digitally-connected industrial enterprise.
PTC Creo 6.0: Even Better than Last Year
June 1, 2019
Enhanced augmented reality, simulation and additive manufacturing tools lead the list of new features.
PTC Creo 6: New Technologies Enhance Pioneering MCAD Software
March 27, 2019
Update to PTC Creo 6 include enhancements to design for additive manufacturing, real-time simulation analysis powered by ANSYS and augmented reality workflows.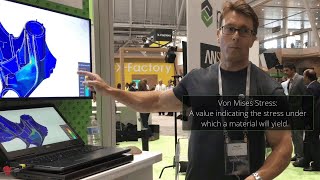 Creo Goes for Real-Time Simulation Feedback
March 19, 2019
Creo Simulation Live embeds ANSYS simulation capabilities directly into the CAD tool interface.
Frustum Acquisition to Add Generative Design Muscle to PTC Creo
November 20, 2018
Slated to debut in future versions of the PTC Creo CAD tool, Frustum's AI-based generative design capabilities will make it easier for engineers to innovate product breakthroughs.
Editor's Pick: PTC Releases Creo 5.0
April 4, 2018
Capabilities for computational fluid dynamics, additive and subtractive manufacturing, as well as topology optimization debut.
elecworks 2018 Offers Integration with Windchill
October 24, 2017
elecworks 2018 from Trace Software reportedly provides more customization and enhanced automatic routing in 3D for PTC Creo.
Editor's Picks for April 27 to May 3, 2017
April 27, 2017
One of the picks will be chosen as DE's Editor's Pick of the Week.
Sponsored Content
Event to Explore New and Emerging Product Design Technologies
March 28, 2017
The fast pace of technological innovation can challenge what you know about product design and manufacturing. Here's a chance to learn how to make the pieces fit together.
Latest News
Formnext Accepting Entries for Start-up Challenge
Applications are now being invited from companies no more than 5 years old, by July 14, 2023.
IBM Kicks Off $100m Partnership for Quantum Supercomputing
IBM announced a 10-year, $100 million initiative with the University of Tokyo and the University of Chicago to build a quantum-centric...
ORIGIN PC New EON Laptops Available
Professionals have complete access to the tools, resources and computing strength necessary to get the job done with the new...
Sigmetrix Unveils CETOL 6σ v11.4.0
As with prior releases, CETOL 6σ v11.4.0 is available in English, Japanese and Simplified Chinese.
All posts