Top Story
DE News Roundup March 15, 2019: HoloLens 2, V-Ray Next for Rhino, GTC and COFES, more
March 15, 2019
Microsoft debut HoloLens 2 at MWC, Chaos launches V-Ray Next for Rhino, NVIDIA gets ready for GTC, and more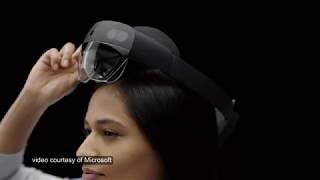 DE News Roundup March 15, 2019: HoloLens 2, V-Ray Next for Rhino, GTC and COFES, more
March 15, 2019
Microsoft debut HoloLens 2 at MWC, Chaos launches V-Ray Next for Rhino, NVIDIA gets ready for GTC, and more
AIStorm Introduces Real-Time AI-in-Sensor Solutions
March 11, 2019
AI-driven sensor solutions are made for driver assistance, mobile handsets, cameras and IoT.
Bringing Order to AI Chaos with Blockchain
March 1, 2019
Investigating the use of blockchain to democratize artificial intelligence.
CONTACT Software and PROSTEP to Collaborate
March 1, 2019
CONTACT Software and PROSTEP AG are pooling their skills in IT, processes and methods to offer suitable solutions for different collaboration scenarios.
ANSYS Twin Builder Empowers Companies to Optimize Product Operations
February 12, 2019
Latest release adds new predictive maintenance features.
Averna Launches Tools for Real-time Asset Monitoring
February 8, 2019
Averna ConnexThing Toolkits accelerate the deployment of an IoT solution with ThingWorx.
Connecting the Thread: IoT
February 1, 2019
Most designers delve into unknown territory when it comes to implementation in the commercial sector of IoT.
Connecting the Thread: 5G
February 1, 2019
5G wireless may bring benefits to cloud-based CAD, IoT, simulation and digital twins.
Predictive Maintenance Improves Efficiency
February 1, 2019
Considering the aggressive time to market required for industrial products and services, it is crucial to identify the cause of potential failures before they occur.
Hackrod: Build a Car from the Bedroom
January 20, 2019
Custom car company Hackrod applies gamification to vehicle design using online collaboration, VR, and 3D printing.
Konecranes Adopts IoT technology Using Siemens' Digital Innovation Platform
January 11, 2019
The company has increased collaboration between simulation, test and engineering organizations to reduce the use of physical prototypes by leveraging a digital twin through Siemens' IoT integrated with PLM technology.
Hexagon Aims to Strengthen Smart Factory Position with Acquisition of Etalon
January 8, 2019
Etalon's solutions continuously monitor and initiate compensation of machine tools, measuring machines, robots and structures to ensure the dimensional accuracy of manufactured parts. 
Zigbee Alliance and Thread Group Release Dotdot over Thread Specification
January 8, 2019
Dotdot over Thread reportedly gives product developers low-power IP connectivity and the interoperability of a widely adopted IoT language.
Hack Your New Year's Resolution
January 1, 2019
Small successes can lead to setting loftier goals, but the trick is to build on each success to get there, rather than trying to achieve too much too soon.
The Industrial Internet Consortium and OpenFoG Consortium Combine Membership
December 19, 2018
Latest News
Dyndrite Accelerated Geometry Kernel Hits the Market
This geometry-agnostic hybrid kernel is capable of interacting with multiple representations of geometry simultaneously.
NVIDIA Launches Jetson Nano AI Computer
Tiny NVIDIA CUDA-X AI computer reportedly runs all AI models.
AMUG Picks 2019 Scholarship Recipients
Dr. Wenchao Zhou and Victoria Sears to be honored at AMUG 2019.
XJet to Debut New NanoParticle Jetting Application at AMUG 2019
The company will offer live demonstrations and will join the conference program in a...
All posts