Top Story
Data Science Finds New Role in the Fight Against COVID-19
May 26, 2020
GPU-accelerated data visualization and analysis could lead to a better understanding of the virus.
DE Podcast: Analyst Jon Peddie Explains COVID-19's Effect on the GPU Market
June 4, 2020
JPR releases graphics market report for 2020 Q1, shipments down, growth blunted by Coronavirus and shutdowns
Sponsored Content
Data Science Finds New Role in the Fight Against COVID-19
May 26, 2020
GPU-accelerated data visualization and analysis could lead to a better understanding of the virus.
No One-Size-Fits-All Optimal System
April 15, 2020
Software use and workload should determine IT manager workstation selection.
Sponsored Content
Editor's Pick: NVIDIA-powered data center for high-performance applications
April 8, 2020
BOXX FLEXX rack-mounted data center platform is made for complex product development workflows.
Large-Scale Models Take A Bite Out of Engineering Productivity
March 1, 2020
Hardware vendors and design tool makers are stepping up with solutions aimed at optimizing workstation performance when dealing with large-scale modeling.
The Expanding Role of GPUs in Simulation
March 1, 2020
Legacy code is slower to move to the GPU; a hybrid strategy is recommended.
AMD Radeon Pro W5500 Workstation Graphics Now on Market
February 11, 2020
AMD RDNA architecture, 7nm process technology and advanced software features offer multitasking performance, energy efficiency, and stability to power 2D and 3D professional design applications.
BETA CAE Systems Releases Version 20.1.0 of ANSA/EPILYSIS/META Software Suite
January 9, 2020
The v20.1.0 release features more efficient process streamline and acceleration.
AMD Unveils Four New Desktop and Mobile GPUs
January 7, 2020
The new AMD Radeon RX 5600 series lineup includes the AMD Radeon RX 5600 XT graphics card,  available in custom designs from AMD board partners.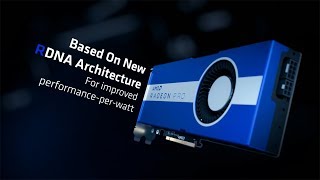 New GPU Enters the 7nm Realm 
December 11, 2019
The graphics processing unit can do more work per watt and do it faster than the previous generation technology.
Sponsored Content
Editor's Pick: Engineering GPU with World-First Specs 
December 11, 2019
AMD Radeon Pro W5700 is a professional PC workstation graphics card designed for 3D designers and engineers using 7nm technology.
HP ZBook 14u G6 Mobile Workstation: Compact Road Warrior Workstation
December 1, 2019
This new 14-in. workstation is a great choice for on-the-go engineers.
Getting Graphic
December 1, 2019
Intel is joining the discrete GPU market. Here's how to follow the latest news and announcements from the chipmaker.
NVIDIA Announces Scalable GPU-Accelerated Supercomputer in the Microsoft Azure Cloud
November 21, 2019
New Microsoft Azure NDv2 supersized instance can scale to hundreds of interconnected NVIDIA Tensor Core GPUs for complex AI and high-performance computing applications.
AMD Launches 7nm Professional PC Workstation Graphics Card
November 20, 2019
AMD Radeon Pro W5700 graphics card harnesses high-performance AMD RDNA architecture, process technology and enterprise-grade software to help professionals increase productivity and more.
Latest News
Restoring Vintage Cars with 3D Printing
ABCar Oldtimers uses Zortrax 3D printers to make car parts no longer available
Volume Graphics CT Software Includes Scan-to-CAD Reverse Engineering Capabilities
New capabilities support digital twin creation and simulation validation.
dSPACE Strengthens Product Portfolio for Autonomous Driving and Data Management
Full integration of software tools from Intempora completes solutions for data-driven development.
Take Our Poll: A Return to In-Person Events
Share your feedback on whether you're up for in-person events to resume.
All posts