Top Story
WAZER Offers Desktop Take on Traditional Water Jet
March 19, 2019
WAZER offers sophisticated cutting and material processing capabilities at a price point and with the accessibility of desktop office printers.
NCG CAM Solutions Celebrates 10 Years with Record Sales Growth
July 2, 2019
End-of-year sales figures have shown a leap in sales, with growth of 41% compared with last year, according to the company. 
NCDMM Opens New Huntsville, Ala., Office to Support U.S. Army
June 17, 2019
NCDMM welcomes Mike Docherty as director of Manufacturing Technology to lead Huntsville office.
America Makes TRX+ @NIAR Technical Review and Exchange Event Headed to Kansas
June 14, 2019
Speakers at the two-day event include Cindy Ashforth of the Federal Aviation Administration, Chris Holshouser of NIAR, and Doug Hall of Battelle.
ZWSOFT Launches ZW3D 2019 SP CAD/CAM Solution
May 30, 2019
It introduces features and enhancements that respond to users' requests, delivering a more user-friendly CAD/CAM solution.
Hexagon's Manufacturing Intelligence Division Breaks Ground on New Center in Detroit Area
May 7, 2019
Hexagon's Manufacturing Intelligence division is constructing a new expansion project on a site in Novi, MI, slated for completion in the fall of 2019.
OPEN MIND/ hyperMILL Announce Joint 5-Axis Machining Technology Seminar with GROB Systems
April 26, 2019
During the seminar, experts from GROB Systems and OPEN MIND will demonstrate ways for manufacturers to make their production facility more efficient.
Hexagon Releases Latest Update of EDGECAM
April 25, 2019
New release supports fast 5-axis machining tools; software features barrel cutter support and new gun drilling cycle.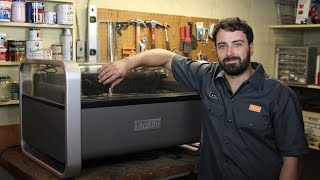 WAZER Offers Desktop Take on Traditional Water Jet
March 19, 2019
WAZER offers sophisticated cutting and material processing capabilities at a price point and with the accessibility of desktop office printers.
CNC Software Updates Name of Wildest Parts Competition
March 15, 2019
Masters of CAM is an online platform for Mastercam users to submit stories about their experience and skills using CAD/CAM software to design and machine parts.
MecSoft Releases AlibreCAM 2019
March 5, 2019
This is the latest version of MecSoft's fully integrated CAM solution for Alibre Design 2018.
ZW3D Review: Model and Manufacture
February 1, 2019
ZWSoft updates its all-in-one CAD/CAM program.
ZW3D 2018 Review: Model and Manufacture
December 19, 2018
One of the things that sets ZW3D apart from most of its competitors is the fact that it integrates both CAD and CAM tools in a single package.
VERICUT 8.2 Introduces an Optimization Module
December 14, 2018
VERICUT 8.2 adds Force Turning to optimize lathe turning, and mill-turn operations, when combined with Force Milling.
Open Mind to Display CAM Software and Integration with Solidworks 3D CAD at Solidworks World 2019
December 10, 2018
OPEN MIND is a SolidWorks Gold Certified Partner, offering hyperMILL CAM software that is directly integrated in SolidWorks 3D CAD software, for design and manufacturing in a wide range of applications and industries.
JETCAM Announces Second v20 Release of Expert CAM/Nesting
November 12, 2018
V20.23.01 includes further enhancements to JETCAM's JET-Cut fly cutting and JET-Optimizer path optimizing, enhancements to common cutting and an all-new advanced reports designer and generator.
Latest News
Volkswagen updates classic van with generative design, RoboCup flexes autonomous muscles, more
In this episode of DE Video News roundup, VW uses Autodesk Fusion to reshape Microbus, autonomous robots play soccer, Onshape...
Editor's Picks: July 11-17, 2019
One of the picks will be chosen as DE's Editor's Pick of the Week.
HP Unveils New Performance Options for Z6 Workstations
New configurable options for Z6 G4 workstations feature Intel Xeon W CPUs that are designed for creative workloads like 3D...
API Strengthens Metrology Services With Acquisition of Exact Laser Measurements
API further extends its reach into the automotive sector.
All posts