Top Story
Simulating the Way to COVID Safety
February 23, 2021
MSC Cradle CFD simulation explores the impact of ventilation and social distancing on in-door dining scenarios to promote safe practices aimed at reducing the spread.
RIZE Debuts "Safe at Home" Manufacturing Initiative
February 25, 2021
By deploying RIZE 2XC desktop composite 3D printers in homes of team members, Festo builds a distributed, self-sufficient supply chain that's GREENGUARD certified safe and productive.
Simulating the Way to COVID Safety
February 23, 2021
MSC Cradle CFD simulation explores the impact of ventilation and social distancing on in-door dining scenarios to promote safe practices aimed at reducing the spread.
2021 Event Updates: Latest Tech Show Announcements
February 4, 2021
Periodically updated list of engineering, manufacturing, and technology shows cancelled or postponed due to coronavirus concerns.
What Will the New Normal Look Like?
February 1, 2021
Here at Digital Engineering, we have spent much of the past year evaluating how the pandemic affected the working life of our engineering audience, and the way they use technology.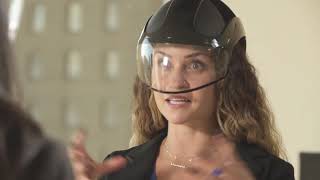 Cool Tech for the New Normal at CES 2021 Virtual
January 18, 2021
AMD delivers keynote touting new mobile processor, virtual CES highlight cool techs for the new normal
Global 3D Printing Materials Market to be Worth $18.4 Billion by 2030
January 5, 2021
Materials to be most significant part of the 3D printing industry.
3D Printing in a Post-COVID-19 World
December 31, 2020
Mass customization and flexibility ensure AM's role in the post-COVID world.
Remote Work is Here to Stay
December 17, 2020
Companies eye virtual workstation capabilities to support remote teams with real-time performance for graphics-intensive engineering applications.
A Look Ahead
December 15, 2020
DE readers provide an update on their use of engineering technologies.
A Year Like No Other
December 15, 2020
Though the uncertainty that arrived with COVID-19 early in 2020 does not appear to be dissipating; even so, the engineering technology sector has continued to innovate and generally thrive.
AMUG Conference Heads South for the Spring
December 9, 2020
Additive Manufacturing Users Group (AMG) conference will move to Orlando in May.
A Glimpse of the Generative Design Market
November 1, 2020
Analysts speculate market impacts of COVID-19, and find ways to evaluate software efficiency.
GPUs Are Workstation Essentials
October 30, 2020
Graphics, AI and parallel processing tasks have made GPUs a key enabler of engineering productivity.
CFD on the Menu for Cafeteria Re-opening Plan
October 26, 2020
Working with Dassault, GEA leverages simulation and digital twin technology to understand aerosol spread as it works to safely re-open its employee cafeteria.
MxD Awarded $15 Million to Boost U.S. Manufacturing's COVID Response
October 22, 2020
CARES Act Funding will support supply chain resiliency, medical device deployment and pharmaceutical industry production.
Latest News
Siemens Expands Partnership with EOS
Through this agreement, EOS North America will be able to resell Siemens' software solutions for additive manufacturing (AM) with its...
Fraunhofer IGD Develops Automated Robotic Arm
The mobile scanner CultArm3D delivers 3D models of exhibits of various sizes at the push of a button, according...
3D Printing Deployed in the War on Head Lice
Enventys Partners, Stratasys leverage additive manufacturing to reduce costs, design constraints and lead time on new head lice treatment.
Editor's Picks: Feb. 18-24, 2021
One of the picks will be chosen as DE's Editor's Pick of the Week.
All posts