Top Story
Hackrod: Build a Car from the Bedroom
January 20, 2019
Custom car company Hackrod applies gamification to vehicle design using online collaboration, VR, and 3D printing.
ANSYS Acquires Helic, an Electromagnetic Crosstalk Solutions Provider
January 24, 2019
Acquisition will complement ANSYS' portfolio to enable next-generation products in 5G and artificial intelligence
Sponsored Content
It Takes a Beast to Handle Beastly Data Loads
January 24, 2019
Simulation, rendering, artificial intelligence and virtual reality jobs demand way more than your everyday workstation.
Sponsored Content
Advancing Product Design Workflows in Manufacturing
January 21, 2019
Radically Improve Design, Collaboration, and Time to Market with the World's Most Advanced Visual Computing Platform.
Sponsored Content
Advanced Product Design for Industry 4.0
January 21, 2019
Today, next-generation visual computing technologies can help accelerate product development processes, starting with the earliest stages of design.
Hackrod: Build a Car from the Bedroom
January 20, 2019
Custom car company Hackrod applies gamification to vehicle design using online collaboration, VR, and 3D printing.
ABI Research's New Industrial Solution Guides Manufacturers Through Digital Transformation
January 18, 2019
18 technologies help digitize operations to create better products at lower costs.
Siemens Releases Teamcenter 12.1 and 11.6, and Active Workspace 4.1
January 11, 2019
Enhancements target the areas of BOM management, systems engineering and virtual reality with this release.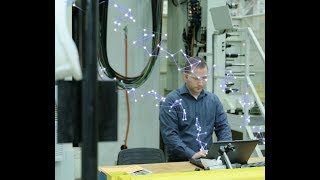 Mixing AI with Human Intelligence in Industrial Revolution
January 10, 2019
AI is a tool humans can use to design better products.
Editor's Pick: DLP Printers Deploy 4M Pixel Projector
January 2, 2019
Pixel-tuning artificial intelligence boosts digital light processing to deliver high-quality 3D prints, EnvisionTEC says.
AI-Tuned 3D Printers
January 2, 2019
Artificial intelligence-based pixel-tuning said to deliver high-quality 3D parts.
Hackrod is Using Lightworks' SLIPSTREAM to Design its Concept Speedster
December 14, 2018
Hackrod is using virtual reality prior to manufacturing the car using 3D printing processes.
Keep Moving Forward
December 1, 2018
Each year, we survey our audience to get their take on how technological innovations are actually affecting the people on the front lines of designing and engineering new products. This year, we decided to also feature some of the design...
Artificial Intelligence Beyond the Hype
December 1, 2018
Advancements in computing and research are making AI applications much more feasible.
Hope, Hype and Reality
December 1, 2018
We asked Digital Engineering's audience for their perspectives on the current and future technologies shaping design engineering, and thus the products and systems that will comprise our future.
Sponsored Content
AI Used to Train AI
November 9, 2018
Research improves on AI diagnostic rates by building upon existing models.
Latest News
Editor's Picks: February 7-13, 2019
One of the picks will be chosen as DE's Editor's Pick of...
DE News Roundup: SolidWorks World 2019 Recap
Kenneth Wong narrates the top video news from this week at SolidWorks World 2019.
OpenBOM Unveils New Design to Purchase Solution
OpenBOM, a cloud-based Bill of Materials and Inventory management tool, announces availability of new...
Desktop Metal Launches 316L Stainless Steel for Various Environments
316L joins Desktop Metal's expanding metal 3D printing materials library for the Studio...
All posts