Top Story
America Makes Announces Four New Project Calls
July 30, 2020
New project calls total $2.1 million in awards for advancing additive manufacturing.
NCDMM and CST Given $9.4M for New Additive Manufacturing Program in Ohio 
October 14, 2020
MAAM program aims to commercialize large additive manufacturing machine for production of large parts for industrial and defense usage.
America Makes Announces the 2020 Class of America Makes Ambassadors 
October 13, 2020
The 2020 class represents a cross-section of the industry whose work helped further advance additive technology.
America Makes Launches New Challenge with the Air Force Research Laboratory and GE Research
August 25, 2020
The challenge is a direct call-to-action to the AM industry to solve critical IP issues with a prize pool of $68,000.
America Makes Announces Four New Project Calls
July 30, 2020
New project calls total $2.1 million in awards for advancing additive manufacturing.
America Makes TRX Virtual Event
July 27, 2020
America Makes partners with OSU for annual technical exchange event.
Sponsored Content
Additive Manufacturing/3DP Information Alignment
July 27, 2020
Growing the number of additive manufacturing information assets within the America Makes digital storefront.
America Makes Announces Awardee of Project Call
July 24, 2020
Goal is to innovate optical components using additive manufacturing.
America Makes and Air Force Research Laboratory Name Awardees of Additive Manufacturing Challenge
July 21, 2020
The goal of the Challenge Series was to improve the accuracy of model predictions for metal AM, using INCONEL nickel-chromium alloy 625.
America Makes Receives $1.4 Million NIST Grant
July 6, 2020
The grant is targeted at producing safe and effective 3D printed personal protective equipment.
America Makes to Host 2nd Virtual Game Day Event with Wohlers Associates 
June 8, 2020
Panel representing wide array of industry experts to discuss how AM addresses supply chain gaps and distributed manufacturing.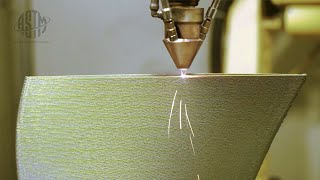 ASTM International Announces AM Data Strategic Guide with America Makes
June 8, 2020
ASTM also debuts Insight Video, new data subcommittee.
3D Printing Pumps Out Essential PPE
June 4, 2020
Private citizens and corporate enterprises are turning to 3D printing to buttress the limited stock piles of much-needed Personal Protective Equipment (PPE) during the COVID-19 pandemic.
America Makes Partners with Wohlers Associates to Launch Virtual Game Day Series
May 8, 2020
This is a new series of virtual panels and networking events that will cover the most important and trending topics facing the AM community.
America Makes Unveils Two Challenges for Additive Manufacturing Amidst Crisis
April 21, 2020
Challenges to address face mask issues for health care workers and COVID-19 related problems for first responders.
3D Systems Updates Name of Tech Chart
April 10, 2020
The FDA, VA, America Makes and the CDC have all published guidance and 3D Systems is collaborating with all these organizations in its response efforts.
Latest News
Altair Named Official Supplier for Luna Rossa Prada Pirelli Team
Under this agreement, Altair is named an official supplier for the Luna Rossa Prada Pirelli team and will provide the...
ExOne Awarded Contract to Develop High-Strength Steel for US Air Force
Parts additively manufactured with AF-9628 are about 20% stronger than conventional AM alloys.
Ball Aerospace to Deploy 3DEXPERIENCE Platform as Manufacturing Solution
The 3DEXPERIENCE platform works as a single integrated solution to support program execution activities.
HOOPS Toolkits Bring 3D Capabilities to Manufacturing Hub
Eurostep brings 3D data access and visualization to its flagship solution, with aim to simplify global manufacturing processes.
All posts