Top Story
Air Force Readies Rapid Parts Replacement for Takeoff
February 21, 2019
The USAF is exploring how to leverage DLP 3D printing technology as a lean alternative to producing and inventorying legacy parts.
America Makes Announces Its Second Satellite Center to be Located at Texas A&M University
March 23, 2019
The objective of the America Makes Satellite Center model is to extend the reach of the existing America Makes mission by expanding its current regional, industrial, and technological footprint.
Sponsored Content
ONR Quality Made – Robotic Laser Wire Additive Manufacturing System
March 11, 2019
Recent advances in modeling and simulation tools based on an Integrated Computational Materials Engineering (ICME) approach provide an opportunity to relate process parameters to microstructure to properties to performance.
America Makes
March 11, 2019
As the national accelerator for additive manufacturing (AM) and 3D printing (3DP), America Makes is the nation's leading and collaborative partner in AM and 3DP technology research, discovery, creation, and innovation. Structured as a public-private partnership with member organizations...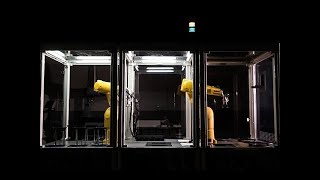 Air Force Readies Rapid Parts Replacement for Takeoff
February 21, 2019
The USAF is exploring how to leverage DLP 3D printing technology as a lean alternative to producing and inventorying legacy parts.
America Makes Announces Qualified Database of Material Properties for FDM Additive Manufacturing of Resin
February 8, 2019
Database released to the Institute and its members to enable use of ULTEM 9085 Resin for aerospace interiors.
America Makes Announces Awardees of Directed Project Opportunities on Acceleration of Large-Scale AM
December 19, 2018
Projects to develop an open source, multi-laser manufacturing research platform and more.
America Makes Accepts Certified Selective Laser Sintering Additive Manufactured Nylon 12 Database from Northrop Grumman
November 2, 2018
Database released to the Institute and Its membership community to enhance the additive material supply chain.
America Makes Announces Directed Project Opportunity on Advanced Tools for Rapid Qualification
October 26, 2018
NCDMM Honors MFG Day 2018 With Training for High School Students
September 27, 2018
Each of the participating high schools in the additive manufacturing training will also receive a 3D printer, laptop with software and a stipend for materials and supplies.
Aconity3D Establishes Partnership with UTEP and Keck Center for 3D Innovation
September 17, 2018
UTEP's Keck Center is home to the first America Makes satellite center.
XJet NanoParticle Jetting AM System Now Operating in U.S.
July 25, 2018
XJet is staffed with many veterans of Objet Geometries, developers of PolyJet AM technology (now owned and marketed by Stratasys).
Penn State Examines Metal Printing Flaws
July 16, 2018
A team working within Penn State's CIMP-3D has received a $1.4 million grant from the Air Force Research Laboratory to investigate the random flaws that emerge during powder bed fusion AM processes.
An April Additive Manufacturing Odyssey: RAPID + TCT 2018
May 4, 2018
A recap of the RAPID + TCT 2018 conference.
New Software Tool Takes Guesswork out of Metal AM Part Orientation, Supports
April 9, 2018
If you don't have 15 years of experience under your belt with metal additive manufacturing (AM/3D printing) – or even if you do – a new tool from Atlas 3D promises to simplify your job. In fact, the results are guaranteed....
A Campaign to Train Tomorrow's Workforce
April 1, 2018
The ACADEMI curriculum is designed to boost additive manufacturing training—and industry savvy.
Latest News
Gigabot X Prints from Waste Plastics
A team from Michigan Tech has demonstrated the financial viability of printing large items...
DE News Roundup April 19, 2019: Technology to help rebuild the Notre-Dame, AU calls for papers, more
Design software maker and game publisher pledge to help rebuild the Notre-Dame, Siemens release...
Editor's Picks: April 11-17, 2019
One of the picks will be chosen as DE's Editor's Pick of...
Saint Thomas Academy's Experimental Vehicle Team Earns Four Awards in NASA Competition
The EV team places first among U.S. high schools; team beat all but...
All posts