Top Story
Ruggedized Electronics Require Special Attention
Meet the challenge of designing sensitive electronics for harsh environments.
CRP Technology's Windform XT 2.0 carbon-composite material was used to create the wind tunnel testing model via selective laser sintering in just four days.
Resources
Industry Focus: Designing for Medical/Life Sciences
You'll see some great examples of the how engineering and medical professionals are coming together to solve real problems with technology in the articles collected for this special digital issue. We hope they…
Matereality Adds Lab Information Management to its Material Data Management Software
March 14, 2019
Release Is accompanied by a new bolt-on for companies to manage and run their test labs.
Pico Technology Introduces PicoScope 9404 SXRTO Real-Time Oscilloscope
March 5, 2019
The 9404 features four 5 GHz 12-bit channels, each supported by real-time sampling to 500 MS/s per channel and up to 1 TS/s (1 ps) equivalent-time sampling. 
Making Autonomous Vehicles Smarter
March 1, 2019
Combining real-world info and simulated conditions to build a data set.
Integrating Smart Design Under Pressure
March 1, 2019
How a small engineering team evolved from its traditional product design roots to embrace the complexity that comes with smart, connected products.
Averna Launches Tools for Real-time Asset Monitoring
February 8, 2019
Averna ConnexThing Toolkits accelerate the deployment of an IoT solution with ThingWorx.
Ruggedized Electronics Require Special Attention
February 1, 2019
Meet the challenge of designing sensitive electronics for harsh environments.
Ethertronics Offers New Portable Millimeter Wave Measurement System
January 23, 2019
The new ETH-MMW-1000 provides a compact, cost-effective, accurate, and adaptable solution for testing 5G antennas and other devices at millimeter wave frequencies spanning 18–75+GHz in a range of laboratory and production environments.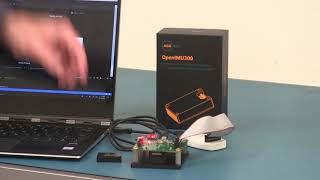 Learn How to Develop Sensor Solutions for Drones, Autonomous Vehicles and Robots
January 21, 2019
Short video addresses the New ACEINNA OpenIMU Sensor Package for Autonomous Vehicle Guidance and Navigation.
Konecranes Adopts IoT technology Using Siemens' Digital Innovation Platform
January 11, 2019
The company has increased collaboration between simulation, test and engineering organizations to reduce the use of physical prototypes by leveraging a digital twin through Siemens' IoT integrated with PLM technology.
Velodyne Lidar Presented new Technology for Autonomy and Driver Assistance at CES 2019
January 11, 2019
Velodyne introduces wide field of view short-range sensor and Advanced Driver Assistance Systems (ADAS).
Tektronix' Initial State Launches new Data Streaming and Visualization Service
January 3, 2019
Cloud-based data service offers real-time streaming from devices and applications. 
Sponsored Content
Simulation and Test Solutions for the Holistic Digital Twin
January 1, 2019
Engineer your innovations with SimcenterTM.
LK Metrology Announces Enhanced CAMIO 8.5 Multi-Sensor CMM Software Version
December 7, 2018
LK Metrology's new 8.5 version of their CAMIO CMM software has a range of new features.
Keysight Technologies Enables ON Semiconductor to Deliver a Design Solution for Power Devices
November 19, 2018
Keysight's Power Electronics Design Bundle is built for power electronics engineers, delivering a design workflow for power device design.
Dual-Channel Multimeter from Tektronix Combines Density with Performance
November 9, 2018
The DMM7512 is suited for a range of high-volume manufacturing test applications that require measurement capacity, performance and a compact footprint.
Latest News
ZVerse and Carbon Set up Partnership Focused on Design for Digital Manufacturing 
The nuts and bolts: ZVerse will offer enhanced design support to Carbon production partners...
Chaos Group Releases V-Ray Next for Rhino
Photoreal renderer tools have expanded the core capabilities of Rhino and Grasshopper, linking photorealistic...
CIMdata Unveils PLM Road Map North America 2019
This PLM industry event will take place in the Washington D.C. area in...
VeriSurf Debuts Latest Master3DGage 3D Inspection and Reverse Engineering Solution
The complete hardware/software solution delivers automated "in-process" inspection to the shop floor.
All posts