Top Story
Ocean Explorer Targets Terrestrial and Extraterrestrial Waters
WHOI and NASA/JPL are designing an autonomous sea drone capable of exploring the hadal zone, up to almost 7 miles below sea level.
Video shows how to measure dynamic tilt angle on a moving vehicle with an IMU or inertial measurement unit.
ABB Systems to Power Arctic Offshore Farming's new Salmon Farming Concept with Remote-Controlled Submersible Fish Pens
May 20, 2019
The system also collects environmental data including as meteorological conditions, ocean currents, oxygen level, sea temperature and pH at different depths.
Creating an Origami Sensor Array
May 1, 2019
The rise of the Internet of Things, the growing role of printed electronics and the increasing number of technologies that mimic nature have all shaped the system's development.
Edge Computing Opportunities and Frustrations
May 1, 2019
Balancing quality and quantity of edge data presents a difficult challenge.
Sensors Smarten Up the Edge
May 1, 2019
Companies that want to bring AI to the edge face hardware and data processing challenges.
TE Connectivity Announces Definitive Agreement to Acquire the Kissling Group 
April 30, 2019
The deal helps expand TE's portfolio for hybrid electric commercial vehicle solutions, TE Connectivity reports.
IPG Automotive Launches Version 8.0 of the CarMaker Product Family
April 26, 2019
Simulation software features new functionalities for virtual test driving.
BigRep Showcases BigRep PRO 3D Printer at Hannover Messe 2019
April 2, 2019
New BigRep 3D printer is automated and 5G connected; showcase marks next step in development partnership between BigRep and Bosch Rexroth.
Morphing 3D-Printed Architectures into 4D
April 1, 2019
No longer will designers focus solely on dimensions like height, width and depth.
NVIDIA Launches Jetson Nano AI Computer
March 19, 2019
Tiny NVIDIA CUDA-X AI computer reportedly runs all AI models.
AIStorm Introduces Real-Time AI-in-Sensor Solutions
March 11, 2019
AI-driven sensor solutions are made for driver assistance, mobile handsets, cameras and IoT.
FIA and Siemens Partner to Improve Rally Spectator Safety
March 7, 2019
Project aims to improve safety for spectators and drivers at FIA sanctioned Rally events.
Pico Technology Introduces PicoScope 9404 SXRTO Real-Time Oscilloscope
March 5, 2019
The 9404 features four 5 GHz 12-bit channels, each supported by real-time sampling to 500 MS/s per channel and up to 1 TS/s (1 ps) equivalent-time sampling.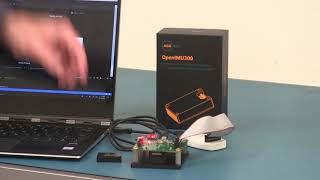 Learn How to Develop Sensor Solutions for Drones, Autonomous Vehicles and Robots
January 21, 2019
Short video addresses the New ACEINNA OpenIMU Sensor Package for Autonomous Vehicle Guidance and Navigation.
Hensoldt Purchases Nano Dimension DragonFly Pro System
January 15, 2019
Early DragonFly Adopter Hensoldt uses Nano Dimension's precision additive manufacturing platform for printed electronics to conduct rapid prototyping.
Velodyne Lidar Presented new Technology for Autonomy and Driver Assistance at CES 2019
January 11, 2019
Velodyne introduces wide field of view short-range sensor and Advanced Driver Assistance Systems (ADAS).
Latest News
RAPID+TCT 2019 Drives Additive Manufacturing to Next Level in Motor City
Thousands of attendees delve into 3D printing, the future of manufacturing, digital twins, data management and so much more.
Jabil Inks Additive Manufacturing Agreement to Supply Parts to Renault F1 Team
On-demand delivery of racecar parts for Renault F1 Team driven by expansion at certified Jabil 3D printing facilities worldwide.
ExOne Announces Kennametal as Inaugural Beta Customer for New X1 25PRO Production Machine
ExOne also announced a new material partnership program, as well as more collaboration with Sandvik Additive Manufacturing.
Behind the Scenes at Materialise in the Midwest
Factory tour at Michigan-based 3D printing production facility provides a peek at the company's innovations in the medical sector.
All posts