Top Story
Making Autonomous Vehicles Smarter
March 1, 2019
Combining real-world info and simulated conditions to build a data set.
Keysight Technologies' V2X Test Solution Earns OmniAir Certification
April 18, 2019
Certification ensures vehicular communication devices and associated software pass global industry requirements for interoperability and compliance.
Siemens Buys NVH Business from Saab Medav
March 22, 2019
Deal boosts Siemens' Simcenter portfolio with a range of configurable solutions for end-of-line noise, vibration, and harshness (NVH) quality testing.
Matereality Adds Lab Information Management to its Material Data Management Software
March 14, 2019
Release Is accompanied by a new bolt-on for companies to manage and run their test labs.
Making Autonomous Vehicles Smarter
March 1, 2019
Combining real-world info and simulated conditions to build a data set.
Integrating Smart Design Under Pressure
March 1, 2019
How a small engineering team evolved from its traditional product design roots to embrace the complexity that comes with smart, connected products.
Averna Launches Tools for Real-time Asset Monitoring
February 8, 2019
Averna ConnexThing Toolkits accelerate the deployment of an IoT solution with ThingWorx.
Ruggedized Electronics Require Special Attention
February 1, 2019
Meet the challenge of designing sensitive electronics for harsh environments.
Ethertronics Offers New Portable Millimeter Wave Measurement System
January 23, 2019
The new ETH-MMW-1000 provides a compact, cost-effective, accurate, and adaptable solution for testing 5G antennas and other devices at millimeter wave frequencies spanning 18–75+GHz in a range of laboratory and production environments.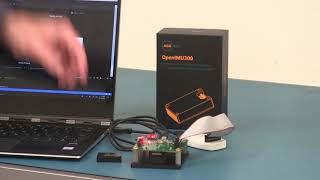 Learn How to Develop Sensor Solutions for Drones, Autonomous Vehicles and Robots
January 21, 2019
Short video addresses the New ACEINNA OpenIMU Sensor Package for Autonomous Vehicle Guidance and Navigation.
Konecranes Adopts IoT technology Using Siemens' Digital Innovation Platform
January 11, 2019
The company has increased collaboration between simulation, test and engineering organizations to reduce the use of physical prototypes by leveraging a digital twin through Siemens' IoT integrated with PLM technology.
Velodyne Lidar Presented new Technology for Autonomy and Driver Assistance at CES 2019
January 11, 2019
Velodyne introduces wide field of view short-range sensor and Advanced Driver Assistance Systems (ADAS).
Sponsored Content
Simulation and Test Solutions for the Holistic Digital Twin
January 1, 2019
Engineer your innovations with SimcenterTM.
LK Metrology Announces Enhanced CAMIO 8.5 Multi-Sensor CMM Software Version
December 7, 2018
LK Metrology's new 8.5 version of their CAMIO CMM software has a range of new features.
Dual-Channel Multimeter from Tektronix Combines Density with Performance
November 9, 2018
The DMM7512 is suited for a range of high-volume manufacturing test applications that require measurement capacity, performance and a compact footprint.
At the Crossroads: Mechanical, Software Engineering
November 1, 2018
Do mechanical engineers know enough about software to meet the demands of increasingly connected and 'smart' product design?
Latest News
Gigabot X Prints from Waste Plastics
A team from Michigan Tech has demonstrated the financial viability of printing large items...
DE News Roundup April 19, 2019: Technology to help rebuild the Notre-Dame, AU calls for papers, more
Design software maker and game publisher pledge to help rebuild the Notre-Dame, Siemens release...
Editor's Picks: April 11-17, 2019
One of the picks will be chosen as DE's Editor's Pick of...
Saint Thomas Academy's Experimental Vehicle Team Earns Four Awards in NASA Competition
The EV team places first among U.S. high schools; team beat all but...
All posts